_________________________________________________________
Ninth SCSCS Season Kicks Off Saturday at Midvale Speedway
Mount Joy, Pennsylvania (May 9, 2016) – The 3,330-pound steel-bodied Super Cup Stock Car Series machines will be invading Eastern Ohio ready to open their 2016 campaign this weekend. The running of the Frontier Tire and Equipment Rental 75 presented by Performance Fiberglass will take place on Saturday, May 14 at Midvale Speedway, a facility that has supported the series since 2011.
There is one major difference about this year, as it will be the first occurrence that the drivers and teams will take to the 3/10-mile in a month other than August. The change from the dog days of summer to a spring date could present some challenges when it comes to track conditions, but most will be set to go after multiple months of preparation in the shop.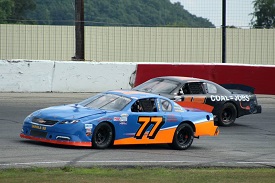 Two former event winners at Midvale will be there, looking to repeat their past success. Veteran driver Kevin Kromer, who took the check back home to Walnutport, Pennsylvania in 2011 and 2014, is looking to turn a dismal 2015 that ended a streak of 19 consecutive top 10 finishes back around with a newly purchased car for 2016.
Petersburg, West Virginia's Larry Berg swept the pole award and race win a year ago in only his second career start, but will also be bringing a different car after the winning ride was wrecked a race later at Jennerstown at the conclusion of the 2015 season.
"I think we should do well at Midvale, but being a different car you never know how it could react to the setup we have," Berg, who will piloting the car in which his grandson Codie Rohrbaugh won twice with at the 2015 Jennerstown finale, said. "Our comfort level is pretty high."
Several perennial contenders look to score their first Midvale victory, or in some cases the first of their SCSCS career. 2015 champion Dan Bainey led laps in every event a season ago and would like to finish one position better than his result last August. Additional West Virginia racers Brent Nelson, the Harrison family composed of Harvey, Brian, and Brandon Harrison, plus Pennsylvania's Kyle Kromer, Bill Ashton, and Lou Ansel will all be back in action.
Also expected are relative newcomers Jason Schue, Brian Kaltreider, and Trent Gossar as well as last year's Motordrome Speedway trophy recipient Mike Kurkowski, Jeff Zillweger after sitting out most of 2015 with motor issues, and Stephen Cox making his first start since 2012.
Cox will be competing as a teammate to Berg with the Rohrbaugh Racing organization, and is also part of another renewed partnership in SCSCS for the new season.
Sopwith Motorsports Television Productions of Indianapolis, which produced high quality shows for SCSCS during the 2011 and 2012 seasons, will be filming several of the 2016 events. Those productions will be showcased to a national audience at a later date on MAVTV and LucasOilRacing.tv.
"We partnered with Super Cup four years ago to create a regional television package for the series," Sopwith producer Stephen Dale said. "Our specialty is helping our series partners to move to the next level, and it's exciting to give Super Cup the exposure it deserves on a national basis with MAVTV. It's another success story that we're really proud of."
For those looking forward to being at the track on race day, grandstands open at 3:00 p.m. which also marks the beginning of SCSCS practice. Qualifying will take place at 4:45 p.m. for local divisions followed by SCSCS with racing beginning at 6:30 p.m.
A four hour optional open practice session will be offered to teams early Friday evening as well.
After a several month layoff, the Super Cup Stock Car Series drivers and teams are anxious to get back on the track to begin seeing who will be the champion for the ninth season of competition.
For more information leading up to the Frontier Tire and Equipment Rental 75 presented by Performance Fiberglass please visit the official web site at www.supercupstockcarseries.com. Race day updates will be available on the Super Cup Stock Car Series Facebook at www.facebook.com/SCSCSRacing or on Twitter @SCSCSRacing.
Sponsorship and marketing opportunities remain available for the 2016 season, including events scheduled to air on MAVTV and LucasOilRacing.tv. Organizations interested learning more information can contact brucescscs@gmail.com.
_________________________________________________________