_________________________________________________________
SCSCS Veterans Ready to Tackle Search for Victory in 2016
Mount Joy, Pennsylvania (April 12, 2016) – Knowledge and expertise gained throughout multiple years in the sport and the Super Cup Stock Car Series definitely showed in many statistical categories once again in 2015, but there was one noticeable column that was empty. Drivers with only 28 combined starts accounted for all the wins last season, and several that are contenders every year want to change that trend back around.
Brent Nelson has continuously improved on consistency and performance since joining the series in 2010 and getting his first career victory in 2013. Nevertheless, the Petersburg, West Virginia driver would like to move forward from the third place position in the final standings that he has held over the last two seasons.
Part of that effort for the No. 80 team will be running a new setup in hopes of allowing even better results.
"It has been a very busy off season preparing for 2016," Nelson said. "Our goal is to come to each track prepared so track time can be used for fine tuning. We are working hard to make sure that we are ready to hit the track running."
Nelson has a new associate sponsor on board, Airtek Inc. out of Irwin, Pennsylvania, as part of the effort for 2016.
Another family from the Mountain State that has been seen in the SCSCS pit area every season is the Harrisons out of Renick. Harvey Harrison comes off one of the best seasons of his career, finishing runner up in the 2015 points.
Managing to get the monkey off their back after a few tough seasons, the three-time series race winner and entire Harrison's Motorsports team enters 2016 with renewed confidence to once again contend for the championship.
"Well, there is always room for improvement in racing," Summer Harrison, Harvey's daughter and a crucial member of the family effort, pointed out. "Everyone is always getting better and the competition keeps getting tougher. I think if dad can go out there and continue to have a blast and run up front, the wins will come."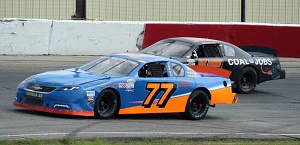 'Having a Blast' was a phrase heard from Harvey on multiple occasions throughout the year after several noticeably strong performances in which he never finished worse than fourth with his No. 51 Southern Coal Corporation Chevrolet.
"Attitude goes a long way and there's no doubt that dad has one of the best attitudes in the series," Summer stated. "I think the combination of dad keeping his head up through a tough couple seasons and getting his confidence in the car and his driving ability back will carry us into victory lane this season."
One new opportunity since the season finale was the addition of Harvey to the series advisory board, a real honor for the family.
"It really speaks volumes about you when your fellow competitors think enough of you to join a board that is really steering the boat for the series."
Harvey's son and Summer's brother Brian Harrison also returns for another full season, as he continues his pursuit for career win number one.
"Brian has spent a lot of time studying up on old footage from last season, whether it be from the GoPro's mounted on the chassis or from the in car footage we took of him driving," Summer analyzed. "I think Brian is getting closer; I think this will be his year.
"Overall, we are just really excited about what this season has in store for our whole family. I feel like this could be our best year yet. We just can't wait to put on show for all of the Super Cup fans."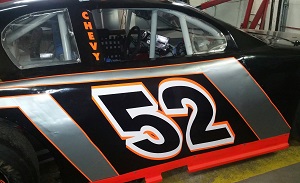 Another longstanding family in the series is the Kromers from Walnutport, Pennsylvania. Kevin Kromer has been a full time competitor since 2009, but all of those past seasons put together had nowhere as many obstacles as 2015.
With a newly acquired car, a good amount of work put into updating its body and other parts, and a fresh outlook for 2016, Kevin is optimistic for a turnaround back to the success he has seen the seasons before with his No. 77.
"I think we'll be alright," Kevin Kromer noted. "We put in a new steering column and a lot of different little things. We'll turn it around this year."
The endeavors to get back to his winning ways will kick off at a facility that he has won at twice already, Midvale Speedway.
"I hope to win right off the bat," Kevin added. "We're looking forward to getting going."
Now that Kevin's son Kyle Kromer enters his fourth season of competition, he can start being considered as one of the series veterans as well. However, there are still goals for the college freshman to accomplish despite two most improved driver awards in the last three years.
"I would like to make it into the top five in consecutive races, and then top three, and the ultimate goal would be a win," Kyle said. "Most of all, I hope we can go the season without any malfunctions."
Kyle Kromer has displayed impressive speed at Midvale in the past, but has not ended up with the finishes to show for it. A season ago he ran laps comparable with the fastest cars, but was involved in a lap one accident. Two years prior, a lead lap run was curtailed by a blown engine.
"I enjoy running there, despite my past results," Kyle indicated. "I hope that I could run a full race this time."
In addition to these five drivers that combine for nearly 180 career starts, a host of others with a variety of steel-bodied stock car experience will be on hand for the upcoming season opener. It will take place on Saturday, May 14 at Midvale Speedway in Ohio as part of Frontier Tool and Equipment Rental night.
Additional updates and information leading up to the start of the season are available at www.supercupstockcarseries.com as well as the official Facebook page (www.facebook.com/SCSCSRacing) and on Twitter @SCSCSRacing.
Organizations looking for information about taking part on a sponsorship or marketing level, including events scheduled to air on MAVTV and LucasOilRacing.tv can contact brucescscs@gmail.com.
_________________________________________________________