_________________________________________________________
More Than Imaginable Opportunities to be a Part of SCSCS Family
Mount Joy, Pennsylvania (February 8, 2016) – Participants in the Super Cup Stock Car Series originate from various types of racing backgrounds, work a variety of jobs during the week, and are within all sorts of stages of their career and life. All contrasts aside, they are each a member of more than a touring series. They are considered part of a family.
Despite auto racing knowingly being a rather expensive hobby compared to other sports and pastimes, joining at a short track grassroots level with the SCSCS can have less of a cost and be easier to achieve than expected.
While there are many stories to be shared, three active competitors in the series coming from a vast range of perspectives provided their knowledge and first-hand experience.
Getting Started and Involved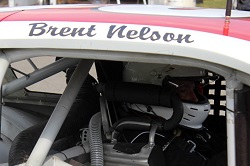 Brent Nelson has been competing in the Super Cup Stock Car Series since 2010, but it was not his first time piloting a steel full-bodied stock car. After racing weekly for a few years at the former Old Dominion Speedway in Northern Virginia in the late 1990s, the current Petersburg, West Virginia resident tried his hand in the former Pro Cup Series on a limited basis. However, as expenses continued to rise, Nelson was no longer having as much fun and made the decision to walk away.
"The way I got back into it, actually, I was on the internet surfing and saw there was a race near me," Nelson recalled. "I had not been to a race since I sold everything in 2003. That's when I went and met (SCSCS Director of Competition) Joe (Schmaling) and two weeks later I went down and bought a chassis."
Nelson initially purchased a NASCAR K&N Pro Series rolling chassis, surprisingly off of eBay, for a very low price. While searching for a motor he spoke with a man, who was looking to put his son in a K&N car and owned five Pro Cup cars that were more complete. They ultimately worked out a deal to trade, in which Nelson acquired additional equipment including two motors after the swap.
"Literally, I got back into racing for under $1,000, which is almost unheard of," Nelson stated. "But there are deals like that out there. My advice is find a car and find out what it needs to make it work. It was something to get to be back behind the wheel doing what I like to do."
Nelson is not the only driver with prior stock car experience that has competed regularly in the series. Kevin Kromer, NASCAR veteran Mike Potter, and 2013 and 2014 champions Todd Peck and JJ Pack are among the talented list.
Jeff Zillweger was contending for wins while running the weekly Pennsylvania tracks of Motordrome Speedway and Jennerstown Speedway. After seeing what SCSCS had to offer when they came to town, the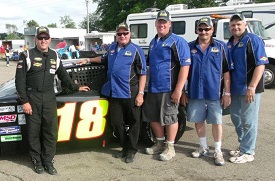 Pittsburgh driver elected to give it a shot. Frequent series campaigner and veteran racer Brent Cross had one of his machines available.
"I started in a two race rental program with Brent to make sure I liked the car before I invest my own money," Zillweger said.
Additionally, Zillweger had talked with a SCSCS competitor and continues to receive expertise from another driver who previously had experience in this style of machine.
"Lou (Ansel) used to work close with me in the Street Stock and was a big influence to make the jump up," Zillweger, who also mentioned that a SCSCS car was similar to running his prior Street Stock, said. "Sam Fullone helps me out with setup and is a great person to talk to that makes you feel comfortable that you are getting good advice."
Ansel and Bill Ashton are some other competitors who translated experience around weekly competition in the past to the series. In addition, many have used existing parts such as engines that were utilized in the weekly Street Stock and Late Model ranks thanks to the flexibility of the series rulebook.
Chris Wenzel entered the series with little to no laps behind the wheel of a stock car or at a short track. His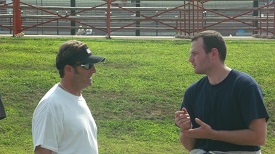 father Herman purchased a few cars with the intention to go racing himself before turning the driving duties over to Chris.
"I kind of fell into it," Wenzel, who originally was supposed to serve as crew chief, explained. "The three cars we had were average and needed some work. We saw a car that Wally (Schweizer) ran so well with at the first race it ran and noticed how complete the car was. We ended up getting rid of those cars, and ended up getting that one."
Additional drivers that have made their first foray into stock car racing with SCSCS, many of which from the karting levels, include Kyle Kromer, 2016 rookie Jason Schue, and multi-time past champion Jody Harrison.
Making the Next Step
Victories and consistent success rarely occurs immediately; however, the skill is potentially achievable over time for anyone within the SCSCS pit area.
For Brent Nelson, it all came together when he parked his No. 80 on the front straightaway of Motordrome Speedway during the final race of the season in 2013 for his first career win in a stock car. Preparation and a strong and committed work ethic are what he feels have played the biggest part in recent success.
"90 percent of our races are won at the shop," Nelson explained. "Going over every nut and bolt week in and week out, pulling brakes, checking those bearings; lots of prep-work during the week where I'm basically a one-man show."
Jeff Zillweger had an up and down first few races, but sticking with it and keeping the car in one piece so he could continue learning have been his goals.
"I wanted to finish every race and not wreck the car, and we did that," Zillweger said. "The turning point was in 2014 when we were running for fifth and sixth instead of 12th or 13th."
Those accomplishments netted the team the Most Improved award when 2014 concluded, and gave his group the confidence to continue that trend.
Chris Wenzel enlisted the help of a former SCSCS racer to guide him along through the rookie season.
A supporter of the operations in the series, Neil Gacom, began helping at an event in Ohio that Wenzel ironically was unable to travel due to his full time job.
"It started when Megan Reitenour drove our car at Columbus," Wenzel noted. "He was interested in how the car was set up at the track. When Neil came on board and pointed things out we kind of clicked. He was all for teaching a new driver and I was willing to listen to what he was saying."
The improvement has been noticeable since his first start, which consisted mostly of simply getting track time and staying out of the way. Another Ohio race was where Wenzel claimed to gain the most knowledge.
"Midvale is really where I learned to drive that car and learned a lot about managing the brakes," Wenzel said. "It was the turning point on how we ran."
The Competitive but Friendly Atmosphere
Brent Nelson takes his work toward success in a racecar seriously, but has also found the appropriate balance the second time around partially thanks to the nature of the Super Cup Stock Car Series.
"My escape from the pressure of the job is to go into the shop and make sure my car is prepared when I get to the track," Nelson commented. "But the race dates are spread out and I have regimented so well working on the car for an hour and a half a night and also being able to schedule family nights."
Additional significance shows in every part in the travels to and from each event and on race day, including having his brother serve as a crew member and spotter.
"We have made it a point to make Super Cup into a family operation," Nelson stated. "It's a family deal and we're all going together. One of the most important tools when we get to the track is the fold out chairs for each member of the family."
The impression on others has also added to the competition including his fellow hometown drivers, Codie Rohrbaugh and his grandfather Larry Berg, who have both enjoyed recent SCSCS success.
"Codie's senior year of high school we were running Motordrome and I invited them up, and the rest is history," Nelson documented. "The following week Larry said 'find me a car' and we knew the caliber of car they wanted. They get the car and the first race the next season the kid finished fourth in it. That's our relationship. We are going to run each other lap in and lap out, and I feel I have played a big part in it and they are grateful."
Nelson is only one of many examples of drivers that have coached fellow racers, friends, and family members to join the competition. Kevin Kromer introduced stock car racing to his son Kyle, as did Harvey Harrison to his kids Brian, Brandon, and Summer.
Jeff Zillweger agreed that the conservative schedule throughout the year helps when it comes to the various commitments every day in life.
"I'm a landscaper and work a lot, my wife is a teacher, and with the kids playing sports it's a good balance," Zillweger said.
He added the enjoyment of having his family being part of his racing endeavors. His father and friends work on the team as well.
"The kids are at an age that they can come along and feel like they are a part of Super Cup."
Race day is often a regular family outing for more than the fans that attend the facility grandstands. 2015 champion Dan Bainey's wife, kids, brother and his wife, parents, grandparents, and many more are often in attendance to support his season-long effort and is only one of the prime examples.
Chris Wenzel appreciates the flexibility that the series has, especially when traveling from Northern New Jersey for every race and an occupation with the Port Authority of New York and New Jersey at such sites as the Lincoln Tunnel.
"My dad and I are blessed with an awesome job," Wenzel said. "We usually work different shifts and end up going through the car and do one final prep when we are both off. The series is based on Fridays and Saturdays so we can ask off in advance of scheduled race dates."
Wenzel, among many others, is also thankful for the availability and willingness of everyone to pitch together in times of need.
"It's great that you can call someone during the week with a question, or guys like Kevin Kromer, Bill Ashton, and Lou Ansel coming over to help get back on track when something happens," Wenzel mentioned. "Off the track we're all sitting there talking, laughing, joking, and get along. It's cool to be able to have that camaraderie. You don't see that anywhere else."
Anyone looking to join what has evolved into one big Super Cup Stock Car Series racing family can head over to www.supercupstockcarseries.com for rules and more materials. Additional questions regarding how to get started can be directed to Director of Competition Joe Schmaling at scscs@att.com.
Organizations looking for information about taking part on a sponsorship or marketing level, including events scheduled to air on MAVTV and LucasOilRacing.tv, can contact Marketing Director Bruce Baker at brucescscs@gmail.com.
Additional updates and information are available on the official Facebook page (www.facebook.com/SCSCSRacing) and on Twitter @SCSCSRacing.
_________________________________________________________