_________________________________________________________
Lou Ansel Moving in Multiple Ways Toward Success with Involvement in SCSCS
Mount Joy, Pennsylvania (January 11, 2016) – Since making his initial appearance in 2011, Lou Ansel has not only been a regular competitor at each race but also a major fixture between events to keep the Super Cup Stock Car Series progressing in a positive direction.
Part of Ansel's involvement has included joining as a member of the series advisory board, which assists in making decisions such as maintaining affordability, fairness, and continuously improving driver and team experiences. Through his years of assistance, he was recognized with the inaugural Racing Spirit Award for his support and commitment on and off the track during the 2015 post-season trophy presentation.
Despite his commitment that has also resulted in two straight fifth place points finishes, Ansel still would like to improve his performance on race day. Relocation in recent years has resulted in mostly working out of his trailer and being forced to do some of the preparation when arriving at the track. The current Manns Choice, Pennsylvania resident has a more optimistic outlook going into 2016.
"I have my new shop just about completed," Ansel noted. "I lost an engine at the last race at Jennerstown, and have a lot of car prep work to do over this winter. I am just going to try and be more consistent, finish all the races, and improve on my past results."
The highlight of 2015 was at Midvale Speedway, when Ansel was a contender to run up front being only a couple of tenths within the fastest car. He maneuvered his way into the top five before damage forced him to the sidelines early in a race riddled with altercations characteristic to short track racing.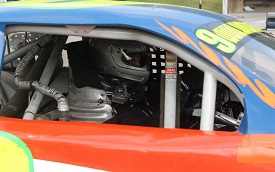 During the off season Ansel purchased another car; however, he plans to use it as a backup. The intention is to keep putting in the work to get his current machine back to where it was at Midvale or even better every race.
"I finally got my original car competitive, and feel that I need to fully develop the original car and see what else that I can learn from that car," Ansel explained.
Among other teams, acquiring a backup only increases an effort in the series with preparation to have a plan to fall back on in case something unexpectedly goes wrong.
Ansel also plans to remain in his role as an ambassador, doing his part to help keep moving the series forward, and providing assistance to those considering starting much like he did a few years back.
"I continue my efforts to recruit potential qualified local drivers," Ansel said. "The Super Cup Stock Car Series is the best kept secret in racing. There is nowhere else that an amateur racer can race a car of that caliber with great drivers at a reasonable cost."
For news, 2016 rulebook, competitor information, and more about getting involved with the Super Cup Stock Car Series head over to www.supercupstockcarseries.com, official Facebook page (www.facebook.com/SCSCSRacing), and on Twitter @SCSCSRacing.
_________________________________________________________