_________________________________________________________
New Motor Gives Bill Ashton Potential to Shine Like a Diamond in 2016
Mount Joy, Pennsylvania (October 26, 2015) – Hopwood, Pennsylvania's Bill Ashton will enter his third full season of Super Cup Stock Car Series in the new year. After a 2013 that resulted in co-rookie of the year honors, 2014 was up and down partially due to part failures that led to two engines letting go.
That was until a new purchase mid-season. The team introduced the first CT525 sealed motor into series competition.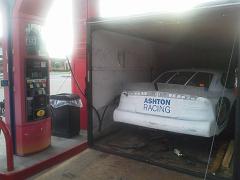 "I feel as though there are a lot of benefits - affordability, not having to spend 30 or 40 thousand on a motor," Ashton pointed out. "It's a big switchover from standard 350s. Accessories bolt up differently but the fact that you can pull into Sheetz and fill up, that's big for me."
That's correct; the engine performs well on 93 octane gas and has an estimated longevity of four or five years of Super Cup racing without a rebuild necessary. Although slightly down on power compared to what the traditional motors run, it remains manageable on the tracks in which the series races on.
That showed the final weekend at Jennerstown Speedway in August when Ashton matched his best career finish of fifth. He feels like the result could have been even better.
"We ran fairly well at Jennerstown," Ashton said. "If I wasn't such a bonehead we could have run with the top three. I didn't have enough nitrogen in the trailer for the tires and had too much stagger. The car got too loose and couldn't get off the corners."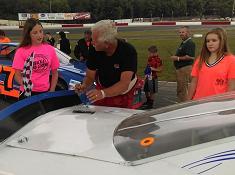 One difference was smoother restarts in which increased power often results in spinning the tires on the smaller tracks. Ashton is making a couple upgrades for 2016 which will help with the same subject. One purchase is a Richmond T-10 transmission in order to run the proper gear race in and race out. The team was previously running an affordable but outdated Saginaw 3-speed transmission, requiring them to restart races in a higher gear.
Barring any unforeseen issues, Ashton expects to have a better season than the past two. It's a theme that the 62-year-young racer has been working toward and displays as a decal.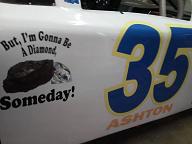 "I was just listening to music and the song 'I'm Just an Old Chunk of Coal' came on," the veteran driver remarked about the "But, I'm Gonna Be A Diamond, Someday" graphic on the side of his No. 35. "It means give him enough time and he will shine; kind of how I feel about racing. It's more of a joke on myself."
He went on to kid around that the driver, owner, and chief mechanic (all of them being Ashton) are in disagreement with one another. Humor continues among a group trying to get all the fun they can out of their experience while attempting to achieve success.
The supporting cast of family and friends including his son Ben, Matt and Tim Shinoski, Alan Curstead, and Mike Gillot remain upbeat for their best outing yet.
In addition, sponsor support comes in the form of Ethel's Edibles, who generously treated the entire series family to some of their catering in the pits at Motordrome Speedway in July.
With his sister's printing and design business FastSigns as well as his own businesses Bill's Wood Stoves and Medved Moving and Storage, there is no doubt that altogether Bill Ashton will be trying his best to shine and perhaps become a diamond in the Super Cup Stock Car Series.
Some exciting announcements regarding the 2016 season are forthcoming and www.supercupstockcarseries.com, official Facebook page (www.facebook.com/SCSCSRacing), and on Twitter @SCSCSRacing will be the sources to find all of the latest news.
_________________________________________________________