_________________________________________________________
Hard Racing and Heated Emotions in Jennerstown Twin 35s Conclude 2015 Super Cup Season
Jennerstown, Pennsylvania (August 23, 2015) – The Super Cup Stock Car Series ended 2015 in a big way Saturday with its first stop at Jennerstown Speedway (PA) for the year. With a series record amount of cars on the grounds for the Martella's Pharmacy Night at the Races Twin 35s presented by Mignogna Collision Center, the championship was far from decided at the start of the day.
Points leader Dan Bainey was one-hundredth of a second slower than the pole time, but it was only good enough for third fastest. July 2014 Jennerstown winner Codie Rohrbaugh grabbed the pole award in a dead heat with Brent Nelson with a new series track record of 20.15 seconds. 2014 series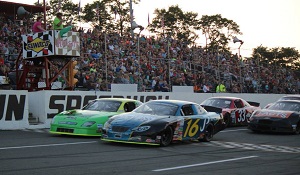 champion and last year's September Jennerstown finale winner JJ Pack gained the pole starting spot after the redraw in his return to competition after a two race absence.
Although there were three leaders in the first 35 lap feature, Rohrbaugh's No. 7 Grant County Mulch Inc. Chevrolet was noticeably strong from the fifth starting position. On lap 21, he took the top spot from Bainey, who gained important points toward the championship by taking the lead from Pack 10 laps prior.
Bainey held off a charging Harvey Harrison for the second position followed by Nelson and Brian Harrison. Brian Harrison's night would unfortunately be cut short due to his No. 15 CoalFacts.org Chevrolet dropping a valve in the closing laps of the first twin race.
The top six finishers redrew for their starting position in the second 35 lapper. Nelson and Mike Potter, who took over for teammate Jon Kerley after a sixth place finish in the first race, started from the front row. Nelson jumped out to the early lead, but it was Rohrbaugh again who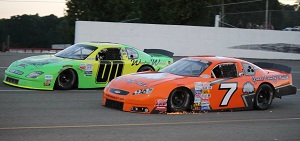 would quickly advance from fifth up to second after a couple circuits.
On lap four, the yellow flag flew and would shake up the events to come in this race. Rohrbaugh was forced to pit twice under the caution due to issues with the left front causing the tire to go down.
Nelson picked up where he left off, but with Bainey, Harvey Harrison, and Pack closely in tow. On lap 13, the leaders approached a slower car allowing Harrison to find a hole and dive under both Bainey and Nelson to take the lead with Pack following him. Three laps later, Pack took the top spot for the first time in this race in his No. 16 IceBoxx Customs / JP Racecars Chevrolet.
The final stretch is where things would get even more exciting than they already were. Bainey had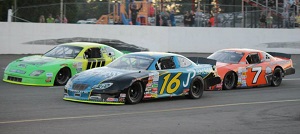 moved past Harrison for second and set his sights on Pack. A caution for the smoking Lou Ansel car bunched the field up and the front two were even for a couple laps before Bainey took the lead for the first time on lap 22.
Bainey looked to be on his way to both the victory and championship, but with eight laps remaining Pack would suddenly slow and brought out the final caution of the night. Bainey had clinched the 2015 championship by virtue of Pack falling out of the race, but the task at hand was not finished yet.
Rohrbaugh was up to second on the final restart and was even with Bainey for a lap. Bainey's No. 00 DelGrosso Foods / Rock & Ruthless Tattoo Parlor Ford pulled ahead, but Rohrbaugh's bid for the win was not done. With two laps remaining, Rohrbaugh went under Bainey and contact was made in turns one and two. Bainey had to make a maneuver to save his car from spinning and Rohrbaugh pulled ahead for his second victory of the night.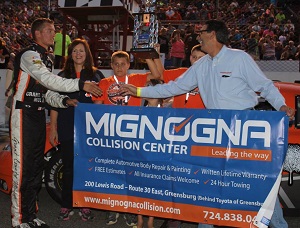 "The first race was pretty smooth," said Rohrbaugh, who was driving the winning car from 2014 that was rebuilt over the last few months. "It was a lot of fun to drive, but the second race we blew two left front tires and I came on the radio and said 'I guess this is what I get paid the big bucks for is coming from the rear, not making it easy'."
After the race there was a difference of opinions between the top two teams and families.
"We were racing hard and it came down to two laps (to go)," Rohrbaugh remarked. "I would expect him to do the same thing going for a win so that's just racing, in my opinion."
Although the championship was his, it was pretty clear that Bainey was not entirely satisfied with second place in the race.
"I think we kind of got moved a couple times," Bainey mentioned." "It is what it is. I know he's here to race and he won earlier today, but I think my side was I got turned, saved it, turned, saved it, turned. I talked to Harvey and he said 'I thought we were done and we were going to collect both of us in the wall'. I kind of didn't expect that from the 7, but you learn from that kind of stuff. Still an awesome year."
For the second time in the evening, Harvey Harrison brought his No. 51 Southern Coal Corporation Chevrolet home in third. The West Virginia driver put on a show for fans with a couple bold moves up front, including the notable one in the second twin 35.
"Those guys were all out of shape, and when I pushed the gas that time my car hooked up," Harrison explained. "Then after we got all stretched back out, my car started getting loose again and it seemed like they ran me back down. We've had trouble with the car being loose all year, but we'll tighten it up. Just a little bit of a chassis adjustment. We'll get it. I'm just glad to be here and we had a blast."
Another strong run netted Harrison second in points, matching his accomplishment in 2009. Finishing fourth in the race was Nelson, who ended the season third in points in his No. 80 Berg Construction / Atkinson Welding Chevrolet.
2014 co-rookie of the year Bill Ashton nosed by Potter in a side by side battle during the closing laps to match his best career finish of fifth. Both drivers needed strong runs to advance within the top 10 in the final standings.
A summary of the post-season trophy presentation that followed the Twin 35 races will be recapped on www.supercupstockcarseries.com in the coming days. Further updates can be found on the Facebook page www.facebook.com/SCSCSRacing and on Twitter @SCSCSRacing.
_________________________________________________________