_________________________________________________________
Second Career Super Cup Start is a Winning One for Larry Berg at Midvale
Midvale, Ohio (August 9, 2015) – The Super Cup Stock Car Series has always featured a family atmosphere. In motorsports, there have been many instances in which winners span multiple generations. However, it's almost unheard of when a grandfather wins his first career race after his grandson did.
That happened on Saturday night as Larry Berg, grandfather of 2014 series race winner Codie Rohrbaugh, took the lead on the backstretch from Dan Bainey on lap 26 and never looked back to win the Kuester Implement 75 presented by Comp-Cal at Midvale Speedway in Ohio.
Berg's Grant County Mulch Inc. No. 7 Chevrolet was one of the fastest cars immediately when taking to the 3/10-mile surface earlier in the day, but when first to last were separated by slightly over .4 seconds in practice it was certain that the race would be a competitive one.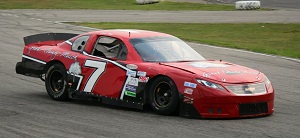 Berg would claim his first career pole award as well, but redrew sixth putting second in 2015 points Harvey Harrison on the pole alongside points leader Dan Bainey. Harrison jumped out to the front early and led lap one before a bottleneck in turns one and two caused a multi-car tangle that sent 2014 Midvale winner Kevin Kromer and fourth in points Brian Harrison to the pit area for the night.
When the green came back out, Bainey was able to work on Harvey Harrison and muscle the lead away from the Renick, West Virginia driver a few laps later. Coming fast behind him though was Berg, a successful motorcycle racer in his youth. The Petersburg, West Virginia driver quickly advanced into second and began to put pressure on the No. 00 DelGrosso Foods / Rock & Ruthless Tattoo Parlor Ford.
When he was caught, Bainey had his hands full and eventually could no longer hold the lead.
"We battled as hard as we could with him, but we started losing brakes," Bainey said. "I had to pump them a bunch. It's not the best feeling in the world here because you have to use a lot of brake."
Berg would still have to contend with Harvey Harrison's No. 51 Southern Coal Corporation Chevrolet throughout the remaining laps that were slowed by numerous yellow flags. On restarts, Harrison's preferred outside line would keep up with Berg, but coming out of turn two Berg was able to power ahead on most occasions.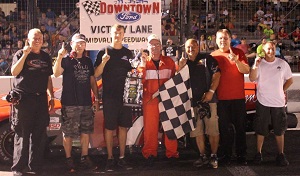 It was Berg's first career win in his second ever start in a stock car, the third first-time Super Cup Stock Car Series winner in 2015.
"We unloaded well and it's been a lot of fun all weekend," Berg recapped. "It was good racing. Harvey and I, and everyone, raced hard but raced clean. You're going to beat around a little bit on a short track, I assure you that."
After taking the checkered flag, 2014 Jennerstown Speedway race winner Codie Rohrbaugh instructed his 'pap' to do a burnout, but amusingly there will be some practice needed for the next time.
"I said 'well they've already got the cars parked so I can't do a burnout' so I started to a little bit--not going to work," Berg said with a laugh.
In the closing laps, the race was on for second. Bainey and his ailing brakes had a late caution to cool off and was able to move inside of Harvey Harrison to take the second spot.
"I thought we had a fifth place car," admitted Bainey. "A couple long green flag runs we didn't have any brakes and I was coasting, diving it into the corners and just catching it up the track. We got a couple cautions towards the end, and I was able to get some brakes back. We had the eight lap run at the end and gave it all we had and ended up second."
Harvey was passed by the only driver he trails for the championship, but remained positive after another podium finish.
"We were having a blast," Harrison commented. "Those guys are good racers, and a lot of slicing and dicing. I really love that. A lot of close racing, but my car got a little bit loose right there at the end. I got in a little bit hot, got up sideways, and it opened the door for Dan to get up under me. Was about out of time when all that happened."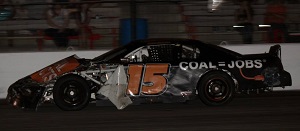 Harvey's youngest son Brandon made his first start of 2015 and brought the No. 5 Harrison's Welding Chevrolet home in fourth right behind his father. After being involved in a multitude of on track altercations, Indiana driver Tim McLaughlin finished fifth in his battered No.21 Don Gnat Racing Chevrolet.
As mentioned before, Harvey Harrison showed that he had something for Berg on the restarts. The veteran driver has chosen the outside at several races throughout the season.
"On restarts, my choice is always the outside," Harrison said. "It seemed like I was good up there, but the car would get loose on me a couple times and when it got loose (Berg) could get right back around me. If I could've gotten it to hook up I would have really given him a good run on the outside. Maybe we'll get them up at Jennerstown."
As a result of the late race pass, there was a 10 point swing with Bainey now leading Harvey Harrison by 50 heading into the finale weekend in two weeks, which will feature Twin 35 lap races at Jennerstown Speedway in Pennsylvania.
"It's a good feeling to go in there as the points leader," Bainey said. "Keep our head on there, get a good finish, and see if we can win the championship."
More details regarding the race day in two weeks that will determine the 2015 champion will be released very soon and can be found at the official web site www.supercupstockcarseries.com as well as on Facebook at www.facebook.com/SCSCSRacing or on Twitter @SCSCSRacing.
_________________________________________________________