_________________________________________________________
More Intense Door to Door Super Cup Racing will be Certain at Midvale Speedway
Jonesborough, Tennessee (August 4, 2015) – The Kuester Implement 75 presented by Comp-Cal is next up on the 2015 schedule as the Super Cup Stock Car Series racers tackle the Midvale Speedway in Ohio.
The 2014 running saw a memorable battle for the lead wage on until the very last lap between Kevin Kromer and JJ Pack. Kromer was victorious that night for his second victory on the 3/10-mile, but the current season so far has been forgettable for the veteran driver.
After more than three years in a row without finishing outside the top 10, the Walnutport, Pennsylvania driver has not been around to see the checkered flag in three straight races due to various mechanical problems.
Refreshed from a recent family vacation, Kromer only has a few short days to finish examining the issues in hopes to turn that luck around at a track in which he holds an average finish of 2.5 in four races.
"I've got a lot of work to do to get to Midvale," Kromer said. "We're going to go there to win. It's a track that I know how to win at. I know how to drive that track. Just got to get the car together and hope everything pans out."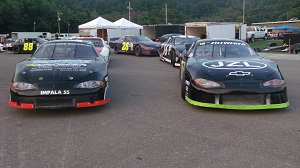 Pack also looks to return to familiar form, after the Cal Richardson-owned team made the difficult decision to skip the last race due to some issues with the rear end at the previous race the night before. The defending series champion most recently got some seat time in his debut at the 2.5-mile Pocono Raceway in an ARCA car, but can't wait to get back to racing in Super Cup.
The competitor off to the fastest start in 2015 is a driver who has never even seen Midvale before. Clearfield, Pennsylvania's Dan Bainey has won two of the first three races, but admits that another win will not be easy.
"It's going to be tough," Bainey said. "They are gunning for it now, but that's awesome. This is my rookie year and the car works. These guys are tough to race against. They race hard. These guys are veterans. They've done this a lot and, me going to new tracks, that's tough so we will give it the best shot we can and see what happens."
As is the case with many situations in a grassroots series like Super Cup, Bainey will seek advice from some of his closest competition.
"I'll try getting a hold of (second and fourth in points Harvey and Brian) Harrison or JJ Pack and get at least a little feel before we get down there," Bainey explained.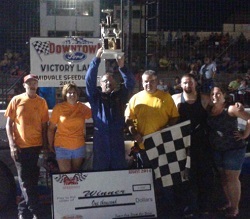 A driver looking to secure his first win of the year sits third in the current standings and has recorded consistent results in past Midvale starts. Brent Nelson knew after the Motordrome/CNB doubleheader in July that he had some homework to do, but is optimistic heading into the upcoming event.
"Do a little bit more work on the car and just go over everything, because we have to make sure everything is ready to go when we get to Midvale," Nelson said. "We've run good there. We'll have something for them. We'll be ready."
Some teams will take advantage of a Friday evening open practice that takes place from 4 p.m. until 8 p.m. Race day practice kicks off at 3 p.m. with an on track autograph session for fans scheduled to follow qualifying.
Later in the evening will be a 75 lap feature that is always one of the annual favorites for the drivers and many asphalt short track enthusiasts throughout the Eastern part of the Buckeye State.
Full schedule and driver information is available at www.supercupstockcarseries.com while race day updates will be viewable at www.facebook.com/SCSCSRacing and on Twitter @SCSCSRacing.
_________________________________________________________