_________________________________________________________
Kurkowski, Bainey Split Thrilling Super Cup Pennsylvania Doubleheader Weekend
Skyland, North Carolina (July 19, 2015) – For only the second time in 2015 the weather cooperated and allowed for some intense short track racing at a couple of Pennsylvania's finest asphalt facilities. The end result was a first-time Super Cup Stock Car Series winner and a rookie competitor setting the precedent as the driver to beat heading into the final races of the season.
Dan Bainey picked up where he left off two months ago at CNB Bank Raceway Park by claiming a new series track record of 19.092 seconds in qualifying at Motordrome Speedway on Friday night. He would draw the outside pole with CNB May runner up Harvey Harrison starting from the inside. Harrison would lead the first few circuits before Bainey would get by and set the pace for the first half of the 75 lap race.
Things would change on lap 41 when the No. 00 DelGrosso Foods / Rock & Ruthless Tattoo Parlor Ford of Bainey became noticeably ill-handling, allowing Harvey Harrison to get by for the lead. Harrison would have a new challenger very quickly as Denver, North Carolina's Mike Kurkowski and the Renick, West Virginia veteran would duel for the lead over the closing laps.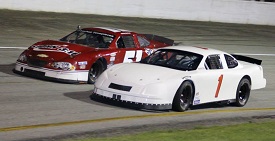 Bainey's issue turned out to be a flat right rear tire; however, the way the cautions fell in the second half of the race, the rookie driver was able to march through the field and be in contention for the win.
The final laps turned out to be an all-out battle for the victory between the three drivers that came down to the wire with Kurkowski holding off Harrison and Bainey for his first career Super Cup Stock Car Series victory.
"It was a tough race," a jubilant Kurkowski said. "I was just biding my time running along behind Harvey there. I saw Dan start backing up and I was thinking this is pretty cool. Harvey started slipping and sliding. Thought this was even cooler. We got to race a bunch. The restart made it interesting. Harvey was better on cold tires; I was better on hot tires so that made it good."
This was a different car than what Kurkowski brought to CNB back in May. The No. 1 ShoTime Motorsports Ford he fielded at Motordrome has quite a successful history to it.
"This particular car Mardy Lindley drove for me in the Pro Cup Series in 2006, I believe," Kurkowski recalled. "I took it apart, redid it, and brought it back out here. It always was a good racecar. All day long I had been thinking that this car needs some work. It could be faster. I've got the parts in the trailer. I just didn't have the help today or the time. I left at 5 a.m. to get here."
Brent Nelson finished a solid fourth while Indiana driver Tim McLaughlin achieved a best career fifth on Friday night in his return to the series.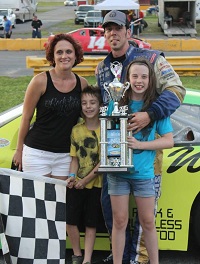 Saturday at CNB Bank Raceway Park in Clearfield, Pennsylvania started off noticeably with Friday's winner surprisingly absent, leaving the window for victory wide open. Bainey again grabbed the pole award only 0.19 seconds faster than Harvey's son Brian Harrison.
The first lap of the Window World 75 presented by CoolShirt turned nearly disastrous. Harvey jumped out to the front initially, but Brian came back on the inside. McLaughlin started third and with a huge run out of turn four to complete lap one got into the back of Brian, sending Brian's No. 15 CoalFacts.org Chevrolet around in front of the field. Nelson would also spin to avoid contact and miraculously not one car in the field had any significant damage.
As the race went on, the summer sun was extremely tough on equipment with several competitors suffering overheating issues and McLaughlin's No. 21 Don Gnat Racing Chevrolet eventually being sidelined with a rear end problem. Up front it was 2015's top performers battling for the win with Harvey Harrison leading the first half of the race in his No. 51 Southern Coal Corporation Chevrolet.
Nelson would make a bid for the top spot on a few occasions but catching them fast was Bainey, who started the race in sixth after the redraw. After the flagman signified the halfway point, Bainey used the high line to power by both competitors for the lead and would never look back. It was his second victory of his career, the season, and at his home track CNB Bank Raceway Park.
"We rode behind them for a while and kind of watched where they were good and where we were better," Bainey recapped after the skies opened up following post-race interviews. "I thought Brent was going to get him a couple times, but Harvey, he's got a motor. Every time you would get under him, Harvey would come back. I saw him come down and I had a run so I dove in on the outside and it stuck, got back in it and drag raced down the back straightaway."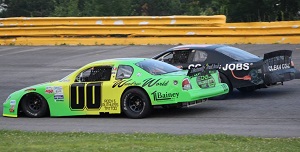 For Nelson and his No. 80 Berg Construction / Atkinson Welding Chevrolet team, it was a successful weekend with two top five finishes. Nevertheless, the Petersburg, West Virginia driver admitted that he and the competition will have some work to do to catch Bainey for the championship.
"All in all, with a second place finish we'll count it as a win," Nelson said "I'm going to tell you, I don't know if many people are going to have much for the 00, but we're going to run him hard every week we get the opportunity."
Brian Harrison finished third after falling out of the race the night before with wheel bearing issues. Series official and former Super Cup driver Neil Gacom went home to Ohio overnight and returned with some spare parts necessary to help Brian get where he needed to be to take the green on Saturday.
On the last restart Harvey Harrison slipped to fourth, but was in good spirits following the grueling race.
"I needed to be on the outside, but hey, I've won my share of races," Harrison mentioned. "We're here to have fun and we'll get them next time."
Maryland driver Rob Hindt survived to round out the top five earning his best finish in only his second career start in his No. 05 On Track Racing Experience Chevrolet.
The series now moves on to Midvale Speedway in Ohio, a track points leader Dan Bainey has never seen. He will have a number of competitors looking to turn around their season for the better and get win number one of 2015 when the series heads to the 3/10-mile on Saturday, August 8.
Continued information, video, and photos are available at the official web site www.supercupstockcarseries.com as well as on Facebook at www.facebook.com/SCSCSRacing or on Twitter @SCSCSRacing.
Click Here for Motordrome Results
_________________________________________________________