_________________________________________________________
Super Cup Competitors More Than Ready for Two Races This Weekend
Skyland, North Carolina (July 13, 2015) – It has been an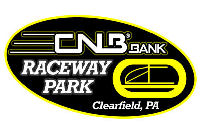 immensely tough battle with Mother Nature when it comes to the 2015 Super Cup Stock Car Series. Nevertheless, up to 20 drivers and teams look to put the precipitation in the past and have their sights set ahead for two nights of grassroots short track racing.
The first stop will be on Friday when the series makes its return to the ½-mile Motordrome Speedway in Smithton, Pennsylvania. During the last visit, which concluded the 2013 season, Brent Nelson held off several challenges late in the race to conquer the first victory of his career. Ever since, the Petersburg, West Viriginia driver has emerged as a championship contender and is poised for a repeat result at the end of the evening.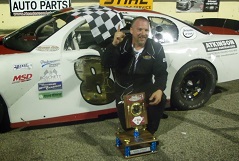 On that same night that fall evening, Todd Peck was crowned the series champion. The Glenville, Pennsyvlania racer makes his return after some starts in the NASCAR Camping World Truck Series. Kevin Kromer and JJ Pack join Peck and Nelson as former winners at the facility, but one thing will be different in this running.
The cars will be going 75 circuits around the rough surface, compared to the 50 lap distance during the previous races at Motordrome. This will make tire management key and could allow for some competitors, such as Dan Bainey in his first start at the track, to be challengers for the win.
Bainey won the only race held so far in 2015 at CNB Bank Raceway Park in May. The Clearfield, Pennsylvania track is where the teams will pack up and go to the next day, for a make-up of the postponed June 27 event.
Father and son Harvey and Brian Harrison both garnered top five finishes and made bids for the lead last time out. They have intentions of bringing trophies back to Renick, West Viriginia at the conclusion of the weekend.
Joining the aforementioned drivers will be a host of additional competitors looking to battle with the series front runners and improve on their own efforts.
On Friday, the first on-track activity will be an hour long practice session at 3 p.m. Qualifying will be at 7:45 p.m., and the 75 lap Motordrome feature and fireworks will serve as the nightcap. Additionally, an on track autograph session is on the schedule.
On Saturday, grandstand and hillside seating will open at 4 p.m. Saturday at CNB Bank Raceway Park with qualifying scheduled for 5 p.m. and the Window World 75 presented by CoolShirt set to go off at 6 p.m.
Full schedule and driver information is available at www.supercupstockcarseries.com while race day updates will be viewable at www.facebook.com/SCSCSRacing and on Twitter @SCSCSRacing.
_________________________________________________________