_________________________________________________________
Positive Reviews for American Racer Tire's Entrance into Super Cup Stock Car Series
Skyland, North Carolina (June 1, 2015) – During the offseason, a new relationship between American Racer supplier Lias Tire and the Super Cup Stock Car Series was introduced. There was optimism heading into the start of the season at CNB Bank Raceway Park in May after a handful of test sessions.
At that same time, as with any change, there was a general uncertainty from competitors about what to expect and only assumptions on what adjustments would need to be made. Drivers in the series for several years had grown accustomed to the used radial tires and now many were going back to their roots with a bias ply EC-82 economy compound.
Defending champion JJ Pack did not repeat as winner at the Clearfield, Pennsylvania track on opening day due to overcoming some unrelated mechanical issues, but was pleased with the performance on the rubber they competed on.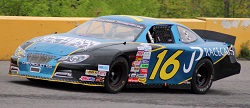 "I think the tires are good and consistent," Pack said. "They don't drop off all that much, but they will amplify your setup if you don't quite get it where you want it."
With many drivers not knowing for sure about the longevity of the tire until they were on the track, it presented an equalizer in competition as many predicted. In addition, teams were required to practice a minimum of 30 laps on the tires they selected to race on. However, many later practice times and qualifying speeds were clocked as fast as or quicker than a brand new set.
While it did test the teams a little more, Pack feels like it will add to the competitive nature of the series.
"The new tire is a little smaller in circumference so it does make a bit of a challenge with the right gear selection," Pack explained. "I think the new tire gives the series a new way to race with a little more tire management and a whole lot more with getting your setup correct."
There definitely were some different strategies that played out throughout the course of the 75 green flag lap feature. The result at the end of the day was Dan Bainey taking his first career win, but second place finisher Harvey Harrison took more of a conservative approach with the tires for a majority of the distance. Near the conclusion he had a shot at the win with one of the fastest cars.
American Racer was on hand for their first event with the series and Lias Tire Sales and Marketing representative Matt Brandle had good things to say about the experience.
"I enjoyed it a great deal," said Brandle, of the Indiana, Pennsylvania business. "It was competitive, but at the same time the teams were having a good time. It was a nice balance."
From Brandle's perspective, positive reception was received from competitors during race day and afterward.
"It didn't seem like there were any issues from feedback with the racers," Brandle said. "They seemed happy with them, and we'll see how well they repeat the next time out."
The next event for the Super Cup Stock Car Series will be at Columbus Motor Speedway, a 1/3-mile circle that greatly differs from the high speed 5/8-mile oval the last race. For information on upcoming events and more visit www.supercupstockcarseries.com and keep updated on social media at www.facebook.com/SCSCSRacing or on Twitter @SCSCSRacing as well.
_________________________________________________________