_________________________________________________________
Close Racing and Free Admission Set to Kick Off 2015 Super Cup Season at CNB
Skyland, North Carolina (May 11, 2015) – It has been a long race-less eight months, and the Super Cup Stock Car Series teams and drivers are more than ready to get back on the track. Potentially the largest field in its eight year history is expected for the Window World 75 presented by RH2 at CNB Bank Raceway Park, and will feature the emergence of some changes for the 2015 season.
It was announced back in January that the series would be switching to the American Racer EC-82 economy compound as the tire to be used starting with the Clearfield, Pennsylvania event. In order to keep competition fair and balanced, drivers will be required to practice a minimum of 30 laps on their race-selected tires.
Some of the top competitors have agreed that this change could be an equalizer going in and therefore should create some close racing on Saturday evening. One of those drivers is last year's runner up Kevin Kromer.
"I think everybody is going to be pretty equal right off the bat," Kromer said. "We're going back to our old notes and will see what happens. Whoever hits the setup the first time is going to have an advantage."
The impact of additions such as the allowance of other body-styles on a limited basis and revamped points format will remain to be seen throughout the season. For the first time, the final standings will be calculated with a driver's worst performance being dropped. The continuation of double-file restarts instituted late in 2014, in which cars select the lane they wish to take the green flag, will be sure to mix things up once again.
One thing that did not change near the end of 2014 was the bar that eventual champion JJ Pack set. The Bealeton, Virginia driver won the final two races of the season and comes to CNB Bank Raceway Park with two straight wins at the 5/8-mile track.
Brent Nelson is one of many drivers that hopes to have something for Pack this season, and looks to repeat his success from the beginning of 2014.
"We completely rebuilt the car from front to rear looking for problems," last year's third place points finisher said. "The car was tight wherever we went since we won the race at Columbus, but I am very optimistic we have it ironed out. We found some issues that were substantial."
The Petersburg, West Virginia driver has gained knowledge out of the seat when touring with former series Rookie of the Year Codie Rohrbaugh to his NASCAR K&N East endeavors, seeing different ways some of the best in the business set up their cars. As a result, he feels there could be even more improvement after his best season in Super Cup to date.
"Last year was a big step in the right direction and this year could be even more of a tremendous difference," added Nelson.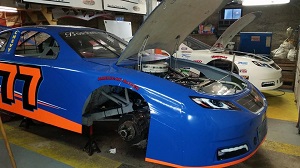 Kromer remains very confident in hopes for his first series championship as well.
"We are pretty well prepared with enough spare parts to go the year," Kromer said. "We redid the whole suspension to accommodate the tires. I hope not to chase JJ."
In addition to these three top competitors, up to 20 more will be vouching to get to the front at the season opener and beyond. Fans will be welcomed for another first in series history, free grandstand admission thanks to the track and its partners and sponsors.
A four hour optional open practice session will be offered to teams early Friday evening with the first race day practice scheduled to begin at 1:15p.m. Saturday. Qualifying is set for 5p.m. followed by the official start to the season with the 75 lap race going green at approximately 6:30p.m.
The entire schedule and list of expected entries are available on the official web site www.supercupstockcarseries.com. Race day updates can be viewed on the Super Cup Stock Car Series Facebook at www.facebook.com/SCSCSRacing or on Twitter @SCSCSRacing.
_________________________________________________________