_________________________________________________________
Super Cup and CNB Bank Raceway Park Officials Move Season Opener to May 16
Skyland, North Carolina (April 22, 2015) – Due to concern of uncertain weather predicted ahead and an opening in the schedule, Super Cup Stock Car Series and CNB Bank Raceway Park officials have made the decision to move the season opening Window World 75 presented by RH2 to Saturday, May 16. The schedule of events from May 2 will remain the same as originally released and the track's free grandstand admission promotion will continue to be honored.
"The 10 day forecast shows the potential for a bad weather system and we are planning for this to be the biggest event since our NASCAR show in 2012. There was an opening to move the event with the Super Cup Stock Car Series so we took the opportunity to do what we think will be best for all the fans who plan to come out," said CNB Bank Raceway Park owner Tim Bainey Jr.
The opening on May 16 became available due to recent changes at the originally scheduled Jennerstown Speedway. The new management group at the track brings promise for racing for years to come and the series looks forward to future opportunities to hold races at the facility, but it was agreed that the event was not ready to be held due to the quick turnaround necessary to get everything organized.
"This is an opportunity that presented itself and works for everyone involved," said Joe Schmaling, Director of Competition for the Super Cup Stock Car Series. "That includes the weather, scheduling, and what is best for the track and the series."
Race dates and locations are to be determined for the intended Jennerstown date in September as well as an additional event that is expected to be added that month, keeping the series schedule at eight races for 2015.
A full race day schedule as well as race preview and any additional updates will be available on the official web site www.supercupstockcarseries.com, Facebook at www.facebook.com/SCSCSRacing, and Twitter @SCSCSRacing.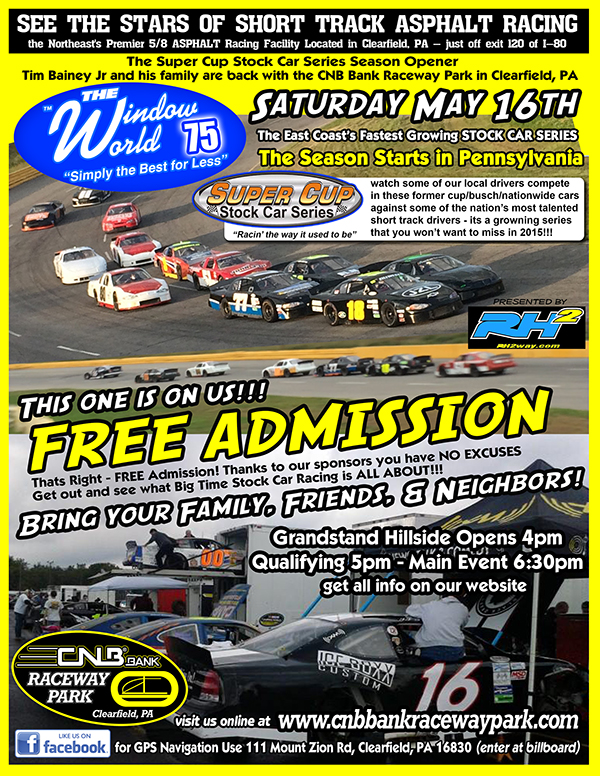 _________________________________________________________