_________________________________________________________
Western Pennsylvania Drivers to Build upon Past Experiences and Results in 2015
Skyland, North Carolina (March 11, 2015) – The rural areas surrounding the city of Pittsburgh, Pennsylvania have seen a hotbed of asphalt racing talent in recent decades, and the presence from that region has grown in the Super Cup Stock Car Series. One bragging right the western part of the state does not have is a series championship; however, a couple drivers had their best season to date in 2014 and continue to inch closer toward that goal.
Jeff Zillweger, from the suburb of Alison Park, won a pole award, claimed his first career top five, and went on to finish in the top ten in each event in his second full season. With the help from his crew members Jay, Pete, Lee, and his father Rich the team received Most Improved of the Year honors at the season ending trophy presentation.
"We are really pumped for this year," said Zillweger. "Getting (Most Improved) most importantly gave (the team) a boost. Everyone is pumped hopefully shooting for our first win."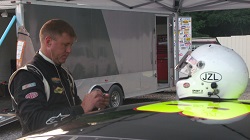 In addition to his team members wrenching on his car on race weekends, Zillweger continues to have additional support away from and at the track. He continues to tune on the car in the shop with former owner of the car Sam Fullone, going over the car together to see what they can improve. In addition, the involvement of Zillweger's family increases his optimism.
"A real big confidence booster is that my kids (Jocelyn and Austin) will be involved this year," explained Zillweger. "My wife Becky got into it a little more. Even my youngest daughter Addison was up in the stands telling everyone her daddy's car was broken when it went off on the hook the last race of the season."
Some of Zillweger's best efforts in 2014 took place at CNB Bank Raceway Park (PA), the site of the first race of the 2015 season. With three races at the facility now behind him, he now feels like he knows what it takes to run well there.
"Clearfield is a fast track," said Zillweger. "You have to pretty much pace yourself and make sure you are there at the end. Toward the end of the year I was thinking now that I can run with these guys, I have to think about how to beat these guys."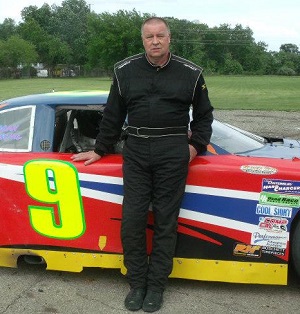 Lou Ansel, a veteran of several forms of racing, enters his fourth full year coming off his best overall performance. However, things kept him quite occupied away from the race track in regards to relocation to another town that left him not as prepared on race day as he would have liked to be.
"I really shouldn't have raced in 2014, to tell you the truth," noted Ansel. "We were doing our maintenance at the track."
Despite this, the now Manns Choice, Pennsylvania resident was present at each event of the year and netted a best career fifth in the standings with five top ten finishes. His 2015 outlook is a much more positive one now that he is settled and centrally located to most of the tracks.
"We started building a 36x36 garage in the winter," said Ansel. "Right now I've got my car in pieces and there will be a bunch of work to do in the next six weeks, but we made a couple of changes to the car that worked late in the year and I'm looking to be consistently in the top five running with the front pack."
As an active advisory board member for the series, Ansel has been closely involved with some of the most recent decisions such as the tires being utilized and allowance of existing Pro Cup fiberglass cars on a limited basis.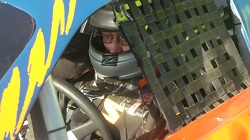 "I think the tires we are on are going to be the equalizing factor," reported Ansel. "What I saw from the test after running a full night's worth of racing and coming back in the same ambient conditions, the tires were only one-third worn. The first two races will be about handling these tires right and paying attention to durability. I think it will make the racing better. With the bias ply tires and their side bite you can keep going through the corner without feeling like you are going to spin out."
No matter his result, Ansel remains happy, proud, and thankful to have a place to race, much of which he credits to the Director of Competition's leadership.
"Joe Schmaling is not a racing promoter; he is a promoter of racing, and a lot of people should take lessons from him," mentioned Ansel. "There is nowhere else on the planet that you can drive these types of cars at a reasonable cost with this group of experienced drivers. The reason people get into racing is to have fun after all."
Now within two months of the 2015 season opener, the latest releases, news, and updates will continue to become available at the official web site www.supercupstockcarseries.com, on Facebook at www.facebook.com/SCSCSRacing, and now on Twitter @SCSCSRacing.
_________________________________________________________