_________________________________________________________
2014's Super Cup Newcomers Look for Constant Improvement in 2015
Skyland, North Carolina (February 11, 2015) – Two drivers with varying degrees of racing experience competed in their first full season in the Super Cup Stock Car Series in 2014. At season's end, Bill Ashton and Chris Wenzel were separated by only 33 points and as a result were both voted by the series advisory board as Co-Rookie Contenders of the Year.
Ashton, from Uniontown, Pennsylvania, purchased a car in the spring and turned around the preparation efforts to be ready to compete by May. The accomplished veteran brought many years under him including time touring in the Frank Kimmel Street Stocks to the series, but according to him there was a lot to get used to.
"It was a huge adjustment mostly because of the ability to adjust on the Super Cup car as opposed to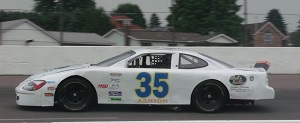 the Street Stock," explained Ashton. "By the end of the season, I think I had it half figured out. I have never done anything in life quite as exciting as this."
There were definitely some lessons learned every race throughout the season for the team.
"There are nuts and bolts that I have probably never tightened on my Street Stock," said the driver of the Ethel's Edibles sponsored Chevrolet. "We discovered the track bar was loose a couple of races."
His best effort of 2014 came at his home track of Jennerstown Speedway in July, a fifth place finish, and looks to carry that momentum into the new year.
"I'm hoping to improve on it a little bit; a continuation of trying to get better," said Ashton. "We will have a different motor this year so lack of horsepower should not be hindrance. Running at the end of every race will be the main goal."
Saddle Brook, New Jersey's Chris Wenzel carried a resume much different from Ashton into the series. Besides a start at the 2013 Super Cup finale and a pre-season test, the young driver's experience in a stock car was almost non-existent. His season started off a little shaky at CNB Bank Raceway Park in June when a practice crash bent up his machine pretty badly.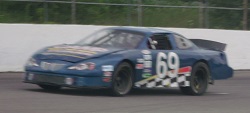 "The beginning of the season definitely was a huge learning curve," admitted Wenzel. "There's nothing else that can be said about that. I wrecked the car a couple times at the beginning of the season and got it straightened out to get to the end of the season."
From there things would improve, much of it having to do with the help he received along the way. Former Super Cup driver Neil Gacom came on board as crew chief and provided valuable feedback and advice as the season went on.
"I learned a tremendous amount when I went to Midvale, what to do with the car and what not to do," said Wenzel. "The beginning of the season was a little rough, but by the end of the season it came into shape."
In the months between seasons, Wenzel's team has been putting in a good amount of work to be ready for CNB in May.
"The chassis is out in Indiana, the engine is in Wayne, New Jersey. I've got pieces and parts all over the place just trying to figure out what to do, but when it comes back it's going to have a fixed rear clip on it and the front clip is going to be straight so hopefully we're going to go with a little bit of a different setup in the front and the rear and it should be a better car overall."
Wenzel's goals remain realistic going into the new year, and by season's end hopes to be the one at the trophy presentation holding the Most Improved Driver plaque.
"Constant improvement, hopefully middle of the pack up to fourth or fifth, maybe third, we'll see," said Wenzel regarding his goals for 2015. "Hope for the best and just hopefully run in the middle."
Both drivers look to returning on a full time basis because of various perks that the Super Cup Stock Car Series has to offer. Ashton applauded his competitors and series leadership.
"We were pleased with the way the season turned out," said Ashton. "(Director of Competition) Joe (Schmaling) is a good guy, who honestly and truly likes to be fair to everyone."
It was evident to Wenzel when they ran into problems one of their first times out when several other team members stepped up to get their car back into shape.
"I like how family-oriented and friendly everybody is and how willing everyone is to help you when you are having a bad day," said Wenzel. "When you wreck something I can't say how many people got in touch with me or talked to me saying 'bring it to me, we'll help you, we'll fix it, we'll do what we've got to do'. It's a great feeling knowing that family atmosphere is there."
As the start of the 2015 season continues to inch closer, fans can follow along with preseason happenings at the official web site www.supercupstockcarseries.com, on Facebook at www.facebook.com/SCSCSRacing, and now on Twitter @SCSCSRacing.
_________________________________________________________