_________________________________________________________
Super Cup Stock Car Series Announces Change in Tire Supplier
Skyland, North Carolina (January 26, 2015) – At this past weekend's Motorsports 2015 Racecar and Trade Show at the Greater Philadelphia Expo Center a special announcement was made about the tires that will be utilized in the Super Cup Stock Car Series.
Beginning with the season opener at CNB Bank Raceway Park (PA) in May, the American Racer EC-82 economy compound will be the tire of choice. The supplier, Lias Tire based out of Indiana, Pennsylvania, will help with a mix of new and used tires to continue with the legacy of affordability in the series.
"Our teams wanted to make the change at the first race in order to get used to the differences," said Director of Competition Joe Schmaling. "We expect that a new set of tires will have a very long life just like the (previously utilized) BFGoodrich's had and be very cost effective for our teams."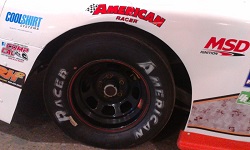 The tire was tested at Motordrome Speedway with Lou Ansel in 2014 and it was determined that a used tire will run as fast as a new one after about 30 laps with proven durability for the distance of any race on the schedule and beyond.
The new tire will add an extra element to the strategy in several ways as well.
"I think it's a great idea and the new tire will take us back to the days where the tire is a lot less forgiving," said 2014 series champion JJ Pack. "It will make the teams work a little harder on their setups to keep the tires under them longer."
In addition, there will continue to be some cost limiting measures in place. To keep competition even, teams that purchase new tires on race day must practice a set number of laps prior to the start of the feature. Also, there will be a restriction on the number of new tires that can be purchased over the length of a season.
Affordability is what keeps several of the core competitors coming back race after race and year after year.
"I think it's a good move for the series," said Kevin Kromer, whose son Kyle's car was on display at the Motorsports show with the American Racer tires. "The best part about it is we have control of our tires from the first lap to the last lap."
The final pieces to the puzzle continue to fit into place for the 2015 Super Cup Stock Car Series season, which is set to begin in only a few short months.
Fans can continue to follow along with preseason happenings at the official web site www.supercupstockcarseries.com, on Facebook at www.facebook.com/SCSCSRacing, and now on Twitter @SCSCSRacing.
_________________________________________________________