_________________________________________________________
Rob Morris Ready to Rebound for 2015 Super Cup Season
Skyland, North Carolina (January 14, 2015) – In 2014, years of steady learning and improvement began to show for Herndon, Virginia's Rob Morris. Unfortunately, circumstances beyond his control resulted in a season that was unraveled in a moment's notice. His Super Cup Stock Car Series machine took one of the hardest hits in quite some time when the throttle hung while climbing through the field at Midvale Speedway (OH).
Luckily, with support and determination Morris is ready to resume the positive momentum he had enjoyed prior to last August. The first race of the season is the site of where Morris accomplished his best career SCSCS run. At CNB Bank Raceway Park (PA), he led several laps competing for the lead with top points finishers JJ Pack and Kevin Kromer before finishing the event in fifth place.
"I picked up an older Laughlin car that I am going to refresh for the 2015 Season," explained Morris. "I am looking forward to returning to CNB since I was able to run well there last June, and am confident that our new car will perform as well as last year."
Much of the former road racer's success is due to the eventual series champion and winner at both CNB events in 2014.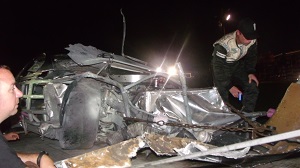 "I have to attribute some of the improvement in 2014 to the assistance of JJ Pack," commended Morris.
"He and I worked hard to make the proper adjustments to give me a more balanced race car. I had limited experience with the big spring cars, and when JJ jumped in to help, I was able to reap the benefits of his extensive short track background. He and I work well together, and can get a lot accomplished in a short period of time."
The two competitors on the track and friends off the track still have plans for the car that was viciously wrecked as well.
"I have also teamed up with JJ Pack to build two other cars that will be specific builds for Super Cup," explained Morris. "The first car is my ex-Brian Vickers Leavitt chassis that we are going to re-clip and return it to its original specs prior to knocking the wall down at the 2014 August Midvale race. The second car is a Billy Hess, Steven Wallace Pro Cup chassis that was given to me by MAR Racing. Both of these cars will be built Super Cup specific, and will be available as cars ready for someone to join the series."
Despite being out of the seat for the remainder of the season after Midvale, Morris was still at the track fulfilling a couple different roles assisting drivers such as Pack and Brian Harrison.
"The thing that is nice about the SCSCS is that everyone is always willing to help the other guy," said Morris. "I have noticed that this has made the series better over the last few years."
The new year will also be an opportunity for Morris to reunite with some old friends.
"I am also excited that car owner Cal Richardson's son Timmy will be returning for the 2015 season," said Morris. "Timmy and I go back a long way since the karting days. He's a great teammate and is always fun to race with."
Expectations could very well be high for a competitor with much support and strong equipment, but Morris remains ready to enjoy the experience at the track first and foremost in addition to being optimistic and confident.
"My goals for the 2015 race season are simple, show up and be competitive at every race while trying to get my first Super Cup win, all while being able to enjoy the fun factor this series has to offer."
The Super Cup Stock Car Series will continue its preseason preparations with a booth at the Motorsports 2015 Racecar and Trade Show at the Greater Philadelphia Expo Center Friday, January 23 through Sunday, Januray 25. Kyle Kromer will have his car on display and Director of Competition Joe Schmaling will be there to answer questions and talk about the series. In addition, there will be a special announcement in regards to the 2015 season at the show.
Fans can follow along with the months leading up to the beginning of the season at the official web site www.supercupstockcarseries.com, on Facebook at www.facebook.com/SCSCSRacing, and now on Twitter @SCSCSRacing.
_________________________________________________________