_________________________________________________________
Super Cup Stock Car Series Champion Achieving Lifelong Goal; Tests at Daytona
Skyland, North Carolina (December 29, 2014) – It is any stock car driver's dream to one day compete at the World Center of Racing, Daytona International Speedway. 2013 Super Cup Stock Car Series champion Todd Peck and team worked hard at the chance to turn laps on the highbanks in the NASCAR Camping World Truck Series back in February, and now 2014 champion JJ Pack has moved one step closer to receiving a shot after testing an ARCA Racing Series car in December.
"It was a lot different than I thought," said Pack, a veteran of short track racing. "I have never been on a track where I was in the throttle the whole way around and on banking that high. We definitely met our expectations."
JJ paired up with car owner Willie Mullins, who he got to know over this past season and talked with about the possibility of testing at Daytona during some Legends car efforts on the Summit Point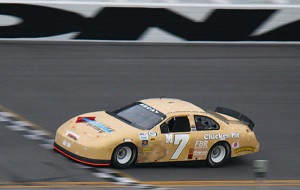 Motorsports Park road course in West Virginia. They additionally had some assistance from some familiar faces from the ARCA garage throughout the two days at the track when they rolled out their noticeable "Stroker Ace" themed plucked chicken replica scheme.
"(Willie) is just like (our Super Cup team); running on a low budget," noted Pack. "He assembled a Roush engine himself, and Andy Belmont helped set the car up. We used that as a base and I made adjustments to make it faster."
The Bealeton, Virginia driver felt really comfortable in drafting practice. He even gained notice from eight-time Daytona winning crew chief and team owner Billy Gerhart, someone who JJ crewed for on an occasion nearly a decade ago, to provide some input and apply it on the track.
"I'm just glad we were able to come away from the test and learn something," added Pack.
The team was moving in the right direction with best lap times consistently averaging under 50 seconds and more than 180 miles per hour, and Pack hopes that it will lead to the opportunity to come back in February. Regardless, he has plans to race at least three more speedway races on the 2015 ARCA schedule including Pennsylvania's Pocono Raceway.
Meanwhile, JJ plans some more Legends car racing before returning to the Super Cup field in May. Owner Cal Richardson has informed him that they are on board to make a run at the 2015 championship and have picked up another car to add to the team's small fleet. Despite his big opportunity Pack looks forward to coming back to possibly defend the title, but not only for that reason.
"It's affordable; for one, but the best part is I like helping other guys and watching them progress. It's a family atmosphere."
Among the drivers Pack plans to assist will be teammate Tim Richardson and fellow Virginian Rob Morris, who showed noteworthy improvement during the early part of the 2014 season.
JJ Pack favors the flat half-mile tracks on the circuit, which will conveniently open up the 2015 season. Both CNB Bank Raceway Park and Jennerstown Speedway are Pennsylvania facilities that he was a winner at in 2014.
The full schedule can be viewed on the official series web site www.supercupstockcarseries.com. Be sure to check for additional off season tidbits on the official Facebook page www.facebook.com/SCSCSRacing as well.
_________________________________________________________