_________________________________________________________
Kyle Kromer Making a Difference On and Off the Track
Skyland, North Carolina (December 11, 2014) – It has been more than two years since second-generation racer Kyle Kromer came on the scene in the Super Cup Stock Car Series. Although his starts were limited in 2014, the teenager continues to show improvement.
"I thought it went pretty well," said the Walnutport, Pennsylvania driver. "There were some things that could have been done differently."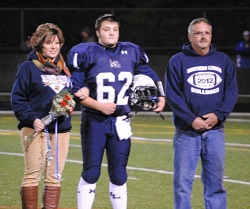 Some of those things that kept the son of series veteran and winner Kevin Kromer away from the race track regularly in 2014 actually had to do with many of the activities he is involved with. The Northern Lehigh High School senior was a member of the football team, which went on to win the Pennsylvania Eastern Conference championship. In addition, the recently turned 18 year old has been a senior firefighter for the last two years.
"I basically joined to volunteer and help the community more," mentioned Kromer.
As a result, his role with the fire department gave him a background for what he would like to study when continuing his education. Recently he was accepted into the Pennsylvania College of Technology and plans on going into the medical field to be a physician's assistant.
Outside of the racing weekends he has continued contributing to Super Cup. Through his knowledge acquired with vinyl lettering and design he put together the oversized checks that are presented to each race winner throughout the season. Kyle has plans to further that hobby into a side business as well.
"Right now we're repainting our garages so I can move to my own shop," said Kromer. "That way I can work on lettering other cars in the region and print t-shirts for teams."
With all that is going on, Kromer continues to have aspirations to compete in the series in 2015.
"I definitely will run all of the races and would like to make it back in the top 10 in points, and hopefully run up front and maybe get a win or two."
While Kyle was inherently brought into the series from his dad's participation, he does enjoy his time spent with the series.
"It's a great bunch of guys that run you hard but respect you. You never know what is going to happen in this series. It's unpredictable."
The official series web site www.supercupstockcarseries.com will continue to be the source for additional off season news as well as the official Facebook page www.facebook.com/SCSCSRacing.
_________________________________________________________