_________________________________________________________
Returning Super Cup Competitor Looks to Combine Past Racing Accomplishments with Current Ties
Skyland, North Carolina (November 20, 2014) – Tim Richardson brings a host of past experience as he plans to rejoin the Super Cup Stock Car Series for 2015. The driver originally from Owings Mills, Maryland has quite the résumé behind the wheel, most recently including three Super Cup races in 2009 as well as a full schedule in 2011. While achieving a best career finish of sixth twice and sixth in the final standings, he believes that he was not able to entirely show his ability.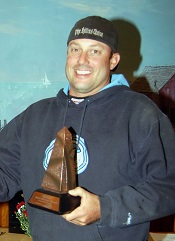 "The car we had just did not want to turn left," explained Richardson. "Turned out to be a road course car and it was too difficult to transition and get it to respond."
Tim always enjoyed the series, but after moving back to his current residence in Moyock, North Carolina as well as additional commitments, racing took a back seat. His father, Cal Richardson, continued an ownership role and paired up with JJ Pack in 2013. A year later the group became Super Cup champions, and for 2015 Tim is excited about putting together a good car with the champion driver's knowledge.
"I always believed that we can do it," said Richardson. "If we can lead or follow JJ and have a lot of fun, it will be a little bit of redemption showing what we couldn't before."
Richardson has a vast and successful racing history prior to entering the stock car ranks. He was a multi-time World Karting Association national champion, often besting household names such as three-time NASCAR Sprint Cup Series champion Tony Stewart and Daytona 500 winner Jamie McMurray. One competitor he will be reuniting with on the track is Super Cup regular Rob Morris, and he definitely looks forward to racing against the Herndon, Virginia driver again.
"My last foray into karts was 125 shifters and Rob and I teamed up and always worked together," recalled Richardson. "We helped each other win races and both finished in the top five nationally in points."
Richardson's next step was in 1995 when he competed in the short-lived Hooters Formula Cup Series, an open wheel tour that raced on various short tracks. There he raced side by side with names like road racers Memo Gidley and Anthony Lazzaro as well as current IndyCar Series owner Sam Schmidt. Unfortunately the series folded at the end of that season leaving his career at somewhat of a crossroads at a young age.
"My dad and I have joked about where things would be had they been different," said Richardson. "We had a limited budget going, and another year of Formula Cup things could have started to happen."
Richardson changed careers and now uses some of his racing knowledge, especially car control, as part of his full time job. He is the director of training for ACADEMI Training Center, a security solutions provider serving government, law enforcement, corporate, and civilian customers. Tim teaches evasive driving skills for real-life scenarios.
"I provide driver training for people going overseas," explained Richardson. "We teach diplomatic protection, defensive posture, using your car as a weapon, and getting yourself out of harm's way."
Tim Richardson hopes to rekindle past success on the race track when the Super Cup Stock Car Series begins their 2015 season at CNB Bank Raceway Park in Clearfield, Pennsylvania on Saturday, May 2.
The official series web site www.supercupstockcarseries.com will continue to be the source for additional off season news as well as the official Facebook page www.facebook.com/SCSCSRacing.
_________________________________________________________