_________________________________________________________

Range of Options Under the Hood an Affordable Benefit for Super Cup Competitors
Skyland, North Carolina (October 30, 2014) – Throughout its years of existence the Super Cup Stock Car Series has continued to search for ways to keep expenses down. Families and teams have faced escalating travel and overall living costs in recent times that leave less money to be devoted to weekend hobbies such as short track racing.
Enter a variety of affordable options for drivers to join and regularly compete in the series, one of them in the form of the car's power plant. In 2014, JJ Pack became the first champion to use a sealed motor; a McGunegill Engine Performance product that is widely used in the racing industry including Super Cup dating back to 2008.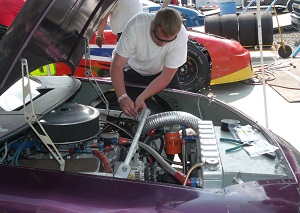 "It was nice to see someone do well with it," said series Director of Competition Joe Schmaling. "MEP engines are hard to beat on every level from cost of operation, performance, service, and durability. When you put the right people and the right parts in the same place championships happen."
While it may lack on high-end RPM power in comparison, the low torque makes up for it performance-wise. In addition, it is easy to work on and is low on maintenance for those that may not have as much time to prepare during the week. All that typically needs to be changed are the spark plugs and oil.
Another low-buck option is taking a motor already in possession and purchasing a chassis to place it in. That is just what New Jersey driver Howie Conk Jr. and team did in 2013. The motor they used originated in the 1990s when they raced at the now defunct Flemington Speedway. Upon qualifying third at Jennerstown Speedway in July, Conk had quite the surprised reaction that an engine they used in their Street Stocks could keep up with the fastest cars on the 1/2-mile. It did not stop there as he made a bid for the lead at one point during that race.
Other drivers have chosen a more conventional path. Brent Nelson owns a Hutter engine that previously ran in Pro Cup and brings the freshened piece back each year. The Harrison's Motorsports team bought their motors at a lower price when some of the Cup-affiliated teams were bowing out of some of the developmental series. Both Brian and Harvey Harrison's cars have motors from JR Motorsports, while Brandon Harrison has a Michael Waltrip Racing engine under the hood.
A variety of other options can potentially be approved for those wishing to compete in the series. View the full rulebook available on www.supercupstockcarseries.com or contact Director of Competition Joe Schmaling directly to find out more during the months leading up to the 2015 season opener at CNB Bank Raceway Park in Clearfield, Pennsylvania the first weekend of May.
_________________________________________________________