_________________________________________________________
Steel-Bodied Machines in the Super Cup Stock Car Series Bring Storied Pasts
Skyland, North Carolina (September 30, 2014) – The Super Cup Stock Car Series features steel-bodied stock cars, a heavy machine that is not widely used in the racing community as much as it had been after several went away from traditional specifications. Despite that, this style of car remains in existence all over the country with many carrying quite the history. The purchased or inherited machines active in Super Cup today are no different, and many have been associated with some names that have accomplished a good amount of success.
The Harrison's Motorsports team led by driver Harvey Harrison has used their welding and fabrication knowledge and some networking through years of experience within the industry to their advantage. They have purchased some cars over the years that had met some unfortunate circumstances for a relatively affordable price and have brought them back to life. The first Super Cup car in which Harvey won on more than one occasion with was an old Brett Bodine Cup car that had been wrecked at Rockingham and was restored in their fab shop in West Virginia. Harvey's son Brian wheeled a former Michael Waltrip Racing car to a second place finish last time out at Jennerstown Speedway. That particular car used to be fielded in the Pro Cup series for Ken Butler III and Brett Butler, sons of the now-retired operator of longtime racing sponsor Aaron's Sales and Lease.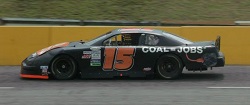 The car that took the hardest hit during the 2014 Super Cup season was originally piloted by the current driver of the Aaron's Toyota in the NASCAR Sprint Cup Series. Brian Vickers was the 2000 Pro Cup Rookie of the Year and won four times in his two full seasons with the series in this Leavitt chassis before moving on to a NASCAR Nationwide Series championship. After changing hands between a couple other drivers, Rob Morris acquired the car and especially in 2014 started turning some heads before his season came to a screeching halt at Midvale Speedway when the throttle stuck going into the turn.
Brent Nelson's car may not have an association with a current Cup driver, but the team it once belonged to now competes at that level. His Chevrolet is a former Randy Humphrey Racing machine, a team that has fielded cars for Dave Blaney, Nelson Piquet Jr., and Corey LaJoie this season. Additional drivers like two-time Nationwide winner Johnny Rumley drove the car in one of its past instances when it belonged to and was wrenched by Mark Huff, who has also worked with veteran driver Mark McFarland and now actively assists July Jennerstown winner Codie Rohrbaugh's racing efforts.
One of the most well known and top performing machines in its days was last raced by Rohrbaugh in his 2013 Super Cup rookie season. This particular car was the first that was purpose-built for Pro Cup more than a decade ago, and had various drivers such as Mario Gosselin, Mart Nesbitt, Michelle Theriault, and 2008 Super Cup rookie of the year Megan Reitenour claim very favorable results.
Some others that were within the Pro Cup realm have interesting stories. Jeff Zillweger drives a car that was formerly owned and operated by current Race of Champions Asphalt Modified Tour competitor Sam Fullone. In fact, over the winter Zillweger brought the car to Fullone's upstate New York shop and they re-did the setup ultimately playing a part in contributing to Most Improved Driver/Team accolades when the 2014 season was complete.
Jim Crabtree Jr. enjoyed his share of success in Super Cup before his Don Gnat-owned Pontiac was involved in an altercation during the 2013 season finale. This particular car was personally built by Laughlin Performance for young up-and-comer Shelby Howard to drive for infamous racer Tony Stewart. The pair resulted in three Pro Cup wins about a decade ago. Crabtree then bought the car only later to sell it to a gentleman from Minnesota who had ideas of bringing the car to a special race in South Africa, but it ended up mainly used as a show car. When Indiana-based Super Cup team owner Gnat worked out a deal with Crabtree, they bought the car back and resulted in two wins in 2013 and two second place points finishes.
There has even been some wheeling and dealing within the Super Cup community as well. Kevin Kromer's current 2002 Ronnie Hopkins chassis was bought from Lonnie Rush, who fielded cars for the 2008 and 2009 series champions, and Kyle Kromer's car was bought from eventual 2014 champion JJ Pack.
Now this season's champ looks to expand on the variety in the series for 2015 as he along with car owner Cal Richardson will build cars specifically for Super Cup for the first time.
"We're actually going to put the (championship winning) car in the corner and we are going to build two brand new ones," said Pack. "Two Predator chassis that (Cal) actually has right now so we're going to bring Timmy, his son, back next year and we're going to be able to put a two car team together."
The cars eligible to compete on the short tracks in the Super Cup Stock Car Series are certainly a throwback to what stock car racing once was. Bodies with backgrounds synonymous with such past series names as Hooters Pro Cup, Winston Cup, Busch, Busch North, and ARCA are still sitting around garages and can easily become legal to compete in the series. The official technical rules and regulations, classifieds of what is available to purchase around the country, and contact information for Director of Competition Joe Schmaling can all be found on the series official site www.supercupstockcarseries.com.
_________________________________________________________