_________________________________________________________
Super Cup Continues Ties to Stock Car Racing's Roots While Looking Ahead to Next Series Race at CNB Bank Raceway Park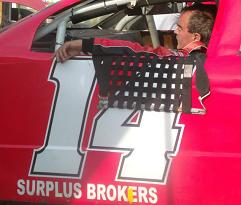 Skyland, North Carolina (June 23, 2014) – The Super Cup Stock Car Series is known as "Racin' the Way It Used to be" and there are many reasons for that as the cars and stars enter the Cool Shirt 75 presented by RH2.
Followers of stock car racing for decades are most likely familiar with the independent Potter racing family. Jess Potter fielded a '57 Chevy on the Daytona Beach Road Course as well as two cars in the first Daytona 500 in 1959. His son Mike started sixty NASCAR Sprint Cup Series races from 1979 through 1993, and now looks to make his second career start in Super Cup and at CNB Bank Raceway Park. After a seventh place finish in 2013 the Johnson City, Tennessee driver looks to come back for more, but why at a track in Clearfield, Pennsylvania?
"I liked the race track," simply stated Mike Potter. "I think all race tracks should be just like that."
The veteran driver brings a car with a good amount of history. The number 14 Chevrolet sponsored by Surplus Brokers and Wrench Rags was originally a Cup car he competed with in the early 1990s, was later converted to an ARCA and Pro Cup car, and now is able to run with Super Cup. Despite the age of the car and the driver, Mike is very confident about his chances.
"We're coming up there to win the race," said Potter.
Mike had originally planned to make his season debut at Jennerstown Speedway in May, but unfortunately rain put a stop to those efforts. In fact, his brother Gary was also planning to compete for the first time since a NASCAR Nationwide (then Budweiser Late Model Sportsman) Series race in 1983. Gary went on to work for teams in the NASCAR garage, most notably with Terry Labonte at Hendrick Motorsports in the 1990s. Mike looks back on his own career as someone who had the chance to do things others didn't get to do, and feels that the racing as well as the atmosphere in the Super Cup pit area relates back to the way it was many years ago.
"It's all about aerodynamics and technology and engineering and all that stuff now in NASCAR," said Potter. "Super Cup doesn't have any of that. You get to drive the car a bit and run up against others. You've got some control of the car. That's what we did it for most of our lives because it wasn't about the money. What racing is about is rubbin' a little bit and having a good time."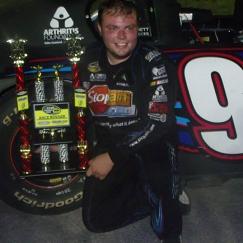 Several other drivers, many of which have multiple generations of racing history in their blood, will look to navigate the largest track the series visits all season. During last year's inaugural appearance, Todd Peck held off several challenges from JJ Pack during a long green flag run and a green-white-checkered finish to lead the race flag-to-flag. Both are slated to return for this year's running, along with Brent Nelson who rides in on a two race winning streak.
There is an optional practice on Friday evening from 5:00pm until dark, while all drivers will hit the track on Saturday afternoon in preparation for the 75 lap feature later in the evening. A full schedule can be viewed at www.supercupstockcarseries.com and updates leading up to and throughout race day will be available on the official Super Cup Stock Car Series Facebook page (www.facebook.com/SCSCSRacing).
_________________________________________________________