_________________________________________________________
Super Cup Newcomers Getting Acclimated to Series
Skyland, North Carolina (June 11, 2014) – Every year a new bunch of competitors join the Super Cup Stock Car Series looking for a new challenge. 2014 is no different. At Columbus Motor Speedway two drivers made their first series start, while many others have been present or interested in participating since last season's finale.
Josh Ebbert drives for the Don Gnat racing team, which fielded cars for Jim Crabtree Jr. and Derrick Layne in 2013. The Indiana driver has spent recent seasons occasionally racing in the CRA Street Stock Series. Ebbert fared the best among the series newcomers with a ninth place finish at Columbus and was satisfied with his first run in a full-bodied stock car.
"It was an awesome experience, and I can't wait to come back and do it again," said Ebbert. "We probably had a little ill-handling car more than we would like, but we'll bring it back and we'll just try to work on it and get it better."
Ebbert and the team lucked out earlier in the season when the first two events were rained out. They have struggled just to get to the track due to mechanical problems with the car.
"We've had some motor issues at the beginning of the year and just getting the gremlins worked out with that, that's our biggest thing," said Ebbert. "Now it's in one piece, we can take it back home and we can improve on it."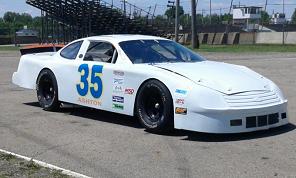 Pennsylvania's Bill Ashton has raced for several years, including starts in the Frank Kimmel Street Stock Nationals which held events at Rockingham Speedway and Iowa Speedway. Ashton enjoyed his first time driving in a different type of car from what he has been used to.
"The car itself wasn't perfect," Ashton said. "It had a little push to it, but it was drivable. We were maintaining our position, got a lap down, and then got the lucky dog. Just having a whole lot of fun."
Unfortunately, Ashton's debut did not end as favorably as Ebbert when he spun and backed into the turn one wall trying to avoid an accident in front of him.
"It's a shame we put it in the wall and ended up the way we did, but it was still a lot of fun," Ashton said. "Now that I know a little more about the way it works and what it does, I'll be better prepared to set it up for Clearfield."
One driver who was absent at Columbus but looking forward to Clearfield is Chris Wenzel. Chris made his series debut at the season finale last year with the focus on getting track time. His day job with the Port Authority of New York and New Jersey kept him from making the trip to Ohio, but he looks to build on his experience from last August.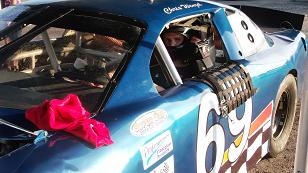 "With it being my first time in this car, I was mainly getting used to it and trying to figure it out," Wenzel said. "I was very green behind the ears."
After getting some advice from other competitors during the off-season, Wenzel went to Wall Stadium Speedway in New Jersey for two and a half hours of testing a few weeks before the originally scheduled season opener at Hickory in April.
"It was a complete 180," said Wenzel. "After talking to Lou (Ansel), Keith Wolfe, and Todd Peck we figured out what the car was doing and how it should be reacting. Sure enough all these guys were spot on."
Despite Chris not being at Columbus, his team, headed up by his father Herman Wenzel, was present and fielded the car for former Super Cup winner and Rookie of the Year Megan Reitenour. Chris feels confident that they will be able to make some strides after all that was accomplished with the seventh place finish at that event.
"I can't say enough for my dad for changing the car around," said Wenzel. "From what I gathered from listening to (Megan) talk about the car, it was tight in and loose off but it responded to adjustments, which is a great feeling to know."
The goal for Clearfield is to get the setup close, qualify somewhere in the middle of the field, and if possible better his result during the race; however, Chris echoed what Josh and Bill had to say regarding Super Cup as a whole.
"Being part of the series, everyone's there to help you until the green flag flies, and then afterwards have a little fun," Wenzel said. "It's an awesome feeling."
All three drivers look to build on their first Super Cup Stock Car Series at the next race later this month at CNB Bank Raceway Park in Clearfield, Pennsylvania. For more information, visit www.supercupstockcarseries.com or like the www.facebook.com/SCSCSRacing page.
_________________________________________________________