_________________________________________________________
Familiar Faces Return to Columbus for Performance Fiberglass Products 75 Presented by Boschett Timepieces
Skyland, North Carolina (May 27, 2014) – The Super Cup Stock Car Series looks for the third time to be the charm after two-straight rain outs. This time they will head to Ohio, site of the Columbus Motor Speedway which hosted the season opener for the series in 2009 and 2010.
West Chester, Ohio driver Kyle Baugh returns to Super Cup for the first time since last year's race at the tight third-mile facility. The 21-year-old has only raced twice in the series, but both were strong outings. Baugh made it as high as third from the back of the field in his first career start and followed it up with a seventh place finish at Columbus in 2013. Kyle will bring his Schaeffer's Specialized Lubricants Ford back with a better understanding of what is needed to perform better.
"We're coming back with a completely different setup," explained Baugh. "We had set the tire pressures way too low and were tight the whole race last year."
Besides 2013 series champion Todd Peck, Baugh comes to Columbus as the only driver entered with a previous victory at the track. That win came in a Legends car in which he raced regularly for a few years. Surprisingly, the Super Cup track experience wasn't much different.
"The line is similar entering the corner and coming out of the corner," noted Baugh. "We should have a good chance at the win. My confidence is up at Columbus compared to other tracks."
That confidence is present even though Kyle has been out of the seat for nearly a year. He decided to take off the remainder of 2013 following the birth of him and his wife's first child. Things have changed in his life, which he believes can translate to the race on Saturday night.
"I felt like I've grown up, and will have a cooler head this year," said Baugh. "Being a father has definitely changed me as a person."
With the goal to chase nothing but the win, Kyle feels his chances are good and it would mean a lot to him to take home the trophy.
"Starting in karts and working into bigger and faster cars through the years, to win in a full-size stock car would top them all," said Baugh.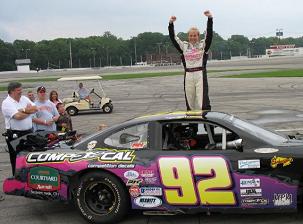 Another competitor familiar to longtime SCSCS fans will not be in a race car come Saturday, but will be very shortly. Miamisburg, Ohio's Megan Reitenour was a three-time winner and Rookie of the Year in the inaugural season in 2008. The 23-year-old driver is a finalist in the Peak Stock Car Dream Challenge.
"It's huge for me," Reitenour recently said. "It's an opportunity to continue to further my career after being unable to get further lately due to lack of funding, so it's make or break. I want to be in a race car. I don't fear being on the track, but I worry about not being able to be on the track."
Reitenour will compete in various tests along with the other 17 contestants in Charlotte, North Carolina in June. If chosen, she will receive a developmental ride for Michael Waltrip Racing in a Peak-sponsored car. Her time in SCSCS and guidance from Martin Nesbitt, who unfortunately passed away in March, has helped get her in the position she is at today.
"Martin taught me so much about learning how to pass in these cars," said Reitenour. "If you can drive a Super Cup car then you can drive anything. It definitely prepared me in many ways."
Megan will be making an appearance at the track during the evening of the Performance Fiberglass Products 75 Presented by Boschett Timepieces Super Cup Stock Car Series race.
Along with these familiar faces, several of the regular Super Cup personalities look forward to getting back to the track come Saturday afternoon as well.
The list of expected drivers and full race day schedule can be viewed at www.supercupstockcarseries.com, and updates throughout the weekend will be available on the official Facebook page www.facebook.com/SCSCSRacing.
_________________________________________________________