_________________________________________________________
Jeff Zillweger Reflects on First Full Super Cup Season, Looks Ahead to 2014
Skyland, North Carolina (October 15, 2013) - The Pittsburgh, Pennsylvania driver had years of Street Stock experience and a couple of Super Cup Stock Car Series starts under him coming into 2013, but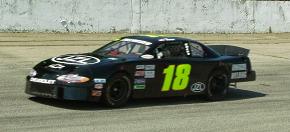 Jeff Zillweger made his first appearance in his own equipment during the season opener at Shenandoah Speedway.
The first half of the season had its struggles getting used to the car with a best finish of tenth, but the team turned the corner at Ona Speedway where they ran as high as fourth and finished a season best sixth.
"Going into Ona we were a little leery, but that was my best race. It felt like a win."
Much of their success at that event could be attributed to the knowledge of former champion and Super Cup winner at that track, Harvey Harrison.
"Harvey gave us ten minutes of his time and input to help get better."
His main goals for the season were to improve, keep the car in one piece, and finish top ten in points; all of which were accomplished. Now the focus is on the 2014 season.
"We're going to try a different setup, and make some springs and shock changes now that I'm used to the car."
Jeff still works closely with the former owner and driver of the car, Sam Fullone, and has plans to bring it to his shop for some further insight. Zillweger also plans to help out with Norm Benning's NASCAR Camping World Truck Series effort to finish out the year and get ready for Daytona over the winter. Benning's shop is just east of Pittsburgh.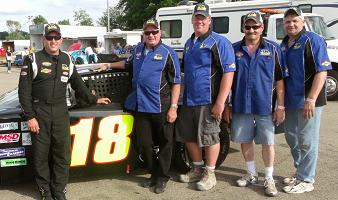 Zillweger also plans on doing some snow plowing as part of his personal business, Jeff Zillweger Landscaping, as well as hanging out with his kids over the winter months.
Next year will be here in no time though, and Jeff looks forward to getting back in the car, seeing everyone at the track, and has a goal of a top five finish for the season. In preparation, Jeff's father Rich works on the car most of the week, has the help of his crew members Lee, Pete, and Jay during race weekends, and would like to thank them for all their help.
The official series web site www.supercupstockcarseries.com will continue to be the source for additional off season news and information regarding the 2014 schedule. The official Facebook page www.facebook.com/SCSCSRacing will continue to have updates over the next several weeks as well.
_________________________________________________________