_________________________________________________________
Several Super Cup Drivers Searching for Break Through Win at Midvale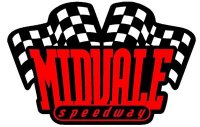 Even though there have been four different winners in the first five races, the Super Cup Stock Car Series has yet to see a first time winner in 2013. That could all change as the field heads to Ohio for the second time this year for the running of the Freeway Motorcars 100 presented by Heintz Performance at Midvale Speedway.
During their first visit to the 3/10 mile oval in 2011, Kevin Kromer captured his first career series victory. He has since won one other time at Motordrome Speedway in 2012, but is looking to win his first race of 2013 after finishing in the top five in every race to date this season.
Several others will be jockeying for their first win ever in the series. Rookie Codie Rohrbaugh has shown speed in every race and achieved a season best finish of second at Motordrome in June. Fellow Petersburg, West Virginia resident Brent Nelson has years of experience with mixed results in 2013, but should be a factor coming off a fifth place finish at Ona Speedway.
J.P. Crabtree III could be in the best position to break through for the win. After four straight top five finishes and continued improvement as his father Jim Crabtree Jr. became the first repeat winner of 2013 at Ona, J.P. is hungry to hold up the big check and trophy at nightís end.
Among all the drivers, perhaps a win would be the best season turnaround for Brian Harrison. Brian has been fast everywhere he has gone, but various events have caused him to park the car in the pit area before the conclusion of each race this season. Brian has a career best second place finish at Motordrome in 2011 and won an exhibition race at Hickory for drivers that had yet to win in the series that same year, so itís proven that he can challenge for the checkered flag at lap 100.
Two of the drivers these competitors will have to catch and pass in order to take their turn up front will be defending race winner Jody Harrison and current points leader Todd Peck.
Jody Harrison looks to get back in the championship hunt after an early exit from the Ona race, while Todd Peck returns from a 27th place finish in the NASCAR Camping World Truck Series at Pocono Raceway with a focus on the Super Cup Stock Car Series title.
The penultimate event of 2013 is ready to go for Saturday with practice and qualifying taking place in the afternoon, followed by the 100 lap race in the evening.
Follow the Super Cup Stock Car Series Facebook page (facebook.com/SCSCSRacing) for at the track updates, and visit www.supercupstockcarseries.com for updated statistics and more following the event.
_________________________________________________________