_________________________________________________________
Super Cup Teams Prepare for Doubleheader Weekend in Pennsylvania
Rain may have shortened the last Super Cup Stock Car Series race in Columbus, Ohio, but for the first time drivers will have two chances throughout this coming weekend to race to the checkered flag.

Teams will arrive, unload and race on Friday for the Anselís Tire Outlet 50 presented by MEP at Motordrome Speedway. This was supposed to be their second appearance at the Smithton, Pennsylvania 1/2 mile track, but persistent rain in the area canceled the May event.
K2 Motorsports hopes to repeat the success from a very special weekend that came in June of last year at Motordrome. It marked the first time that father Kevin Kromer and son Kyle were on the track together, and resulted in Kevin getting his second career victory with a borrowed motor from Peck Motorsports.
Todd Peck and his team have an arduous schedule coming up. Not only do they plan on competing in both races this weekend, but will head home and then load up for their first start of the season in the NASCAR Camping World Truck Series the next Thursday at Kentucky Motor Speedway. The preparation for this weekend hasnít been easy either, as they had to replace the right side of the car as well as install a new exhaust after damage from the Columbus race. Peck along with the last race winner and point leader Jody Harrison are former winners at Motordrome.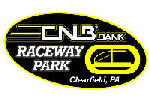 On Saturday, the teams make the just over 100 mile trek northeast to CNB Bank Raceway Park for their first ever appearance at the Clearfield, Pennsylvania facility. What makes the 5/8 mile that reopened in 2012 unique is that it has gone back and forth from dirt to an asphalt layout in its years of existence. In its last clay configuration the entire track was not covered, giving a different feel in turns one and two from turns three and four on the now asphalt surface.
The Kuntz Motor Company 50 presented by Boschett Timepieces will be wide open, since a vast majority of the drivers have never seen this track. In addition to the former Motordrome winners, drivers such as Shenandoah winner Jim Crabtree Jr. and rookie Codie Rohrbaugh will be among those that should be a factor. Crabtreeís car has been repaired since its accident while battling for the lead at Columbus, and Rohrbaugh has had some track time since the previous event making his debut in the Pro Cup Series starting 13th and finishing 11th completing 247 of the 250 laps.
Racing will take place on Friday and Saturday evenings with the race distance being 50 laps for each race. Saturdayís festivities at CNB Bank Raceway Park include a chance for fans to see the Super Cup cars up close and meet the drivers.
Visit www.supercupstockcarseries.com for the entire race day schedules and like the new Super Cup Stock Car Series Facebook page (www.facebook.com/scscsracing) for at the track updates.
_________________________________________________________