_________________________________________________________
Crabtree Family Looking to Build on Positive Results from 2012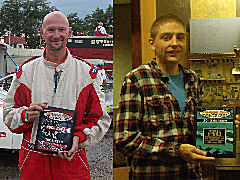 Following a successful 2012 return to the Super Cup Stock Car Series for veteran driver Jim Crabtree, Jr. and a Rookie of the Year season for J.P. Crabtree III, the Muncie, Indiana father and son duo and their teams have high expectations going into 2013.
Jim, who started racing at 17 years old in Mini Stocks, drove his #63 for Don Gnatt Motorsports to no worse than a fourth place finish throughout the 2012 season. Despite the stellar results the team ended up ten points shy of the championship in the end, the difference mainly due to the lack of a victory. However, their sights are set on the championship this year and the plan is not to settle for anything less. He has been winless since his second career Super Cup appearance in 2008, but has not finished outside the top five in any of his starts since race number five of that same year. That consistency, a continuation of a two-race fast qualifier streak and perhaps some wins has the team hoping they can move their way to the top of the points leaderboard at season's end. The team has been hard at work repairing the damage from the last race at Motordrome Speedway and preparing their second car #36 for Derrick Layne, who plans to make his Super Cup driving debut in 2013.
Eyes are also focused on 18 year old J.P. Crabtree III, who had an accomplished first season as a part of the series claiming two top five finishes and a fifth place finish in the final standings. However, he expects bigger and better things in the new season.
"My mindset has changed from 2012. 2012 was all about seat time and getting a good feel of the car and getting a good base setup. I feel like now itís time to turn it up and start going for it. I know my team will do their job and itís just up to me to do the work on the track."
J.P. has set goals to be a contender for the championship and end the year with a win and a pole. In preparation, the team has not made any major changes for the new year but has put a new left side on J.P.'s car as well as performing regular service and maintenance. The main focus, J.P. says is "getting all the equipment ready to rock and roll, and getting my mind set 110% on driving the car hard lap after lap."
J.P. would also like to give special thanks to many for the effort: "my grandpa Jim and grandma Judy for letting me have the opportunity to drive their race car for the 2013 session, my dad for helping me and teaching me all I need to know about racing and to all my crew: Jaren Crabtree, Shelbie Crabtree, Maggie Crabtree, Robert Waters, Eric Morrow, Derrick Layne, Wendell Layne and Don Gnatt and to my family for all of their support, thank you now letís go getíem'."
Sponsors for the teams include Jimís Automotive Sales and Service, McCreary County Funeral Home Inc. G&G Oil, Judyís Apartments, Advanced Signs and Graphics, and D&D Body.
Follow along with J.P.'s endeavors on Twitter at https://www.twitter.com/Jcrabtree83 and on Facebook at the J.P. Crabtree- Driver Fan Page. The 2013 season kicks off in less than a month at Shenandoah Speedway, so stick to http://www.supercupstockcarseries.com/ for more preseason previews and information.
_________________________________________________________