_________________________________________________________
Team LaCross Motorsports Continues Driver Development Program for 2013
Team LaCross Motorsports (www.lacrossmotorsports.com) has been operating an ARCA/K&N race team since 2004, competing at such places as Daytona, Talladega,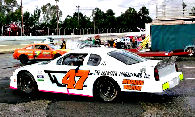 Pocono, Kentucky, New Hampshire and many other short tracks. In 2012, TLM expanded its stable of 5 ARCA/K&N cars to include 2 Super Cup Stock Car Series cars. These cars are available as a driver development/rental program. The program is custom tailored to the individual driverís needs and goals, which can be a one race deal or a full season program. Since TLM has a fully functioning ARCA team, the driver development program uses all of the teamís resources to support a Super Cup race event such as race hauler, car/engine, radios, fully equipped pit box, etc. and a support crew. The driver only needs a fire suit and helmet to participate (and SCSCS approval for competition).
Brent Cross, owner/driver, who has many years of experience from DIRT and NASCAR Modifieds (on the northeast short tracks) to ARCA/K&N (on the superspeedways), will act as crew chief and driver coach for the Super Cup driver development program. These cars are prepared alongside the teamís ARCA cars at the shop in Cortland, New York. The team can provide a car that is a cost effective package for a driver moving up from a local support class, or a full blown program for an experienced driver wanting to compete for wins and championships.
Last year Jeff Zillweger was the first driver to participate in the program. Jeff is an experienced street stock racer from Motordrome Speedway, who wanted to try his driving skills in a touring series type car. He raced the TLM #47 at Midvale Speedway in Ohio and the final race at his home track of Motordrome. Jeff is now looking to buy his own car and become a Super Cup regular in 2013.
Team LaCross Motorsports is looking for drivers for the 2013 season. If you are interested, please contact Brent Cross at 607-591-5556 or email to TLM@lacrossmotorsports.com for more details.
_________________________________________________________