_________________________________________________________
Harrison's Motorsports Looking Forward to a Great 2013 Super Cup Season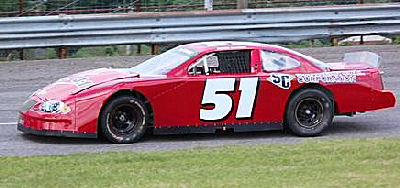 The Super Cup Stock Car Series season opener is still over two months away, but the teams are already busy preparing. The Renick, West Virginia based Harrison's Motorsports fields three full time entries in the series, and although they haven't made any major changes besides some updates to the bodies and chassis over the off-season are looking for positive results in 2013.
It is certainly a family effort with owner Summer Harrison's two brothers Brandon and Brian as well as their father Harvey doing the driving. In 2012, Harvey took home his first series win since 2009 at his home track at Ona Speedway; however, some bad luck toward the end of the year cost him a championship. The team has put that behind them and is expecting to see him up front and in contention again this year.
To say that the Harrison's have not been busy over the off-season would be an understatement. Harvey had a hip replacement following the last race of 2012, but was back at the shop three weeks later and couldn't feel better going into the new season. The family worked together to put Brian and Summer in a couple champ karts to do some indoor racing in December. Summer says that "Brian has been racing champ karts in the off-season with me, keeping his driving skills sharp. I also, look for Brian to be in the front and to pick up his first series win." Brian's best finish has been a second at Motordrome in 2011, a track the series returns to twice in 2013.
Summer also speaks highly of her brother Brandon, "This may be Brandon's breakout season as I think he has really grown up as a person and really started to work as a team with everyone during the off-season. He has basically been splitting time between crew chiefing me and prepping my kart at the race tracks this winter." Brandon ended the 2012 season with his second career top five finish, definitely momentum entering the new year.
Southern Coal Corporation returns as primary sponsor in 2013, in what could be a career year for all three drivers. Follow along with them at their site www.harrisonsmotorsports.com, Facebook page www.facebook.com/harrisonsmotorsports Harrison's Motorsports, LLC or Twitter @HMotorsports51. Keep posted at www.supercupstockcarseries.com as well for more preseason news prior to the first race of the season at Shenandoah Speedway in April.
_________________________________________________________