_________________________________________________________
Super Cup Challenge Series presented by Xtreme Trophies, A Series Within a Series and Season Concluding Champions Race
The SCSCS had already introduced The Challenge, a mini series within Super Cup for racers who have not yet visited Victory Lane.

The Challenge has its own rewards and points system providing three additional opportunities to win races as well as a Championship.

The Challenge Series has been integrated as part of the regular season schedule. Now will play a part of the newly introduced all star race at the end of the season.

The first race of the 3 race Challenge will be a twenty five lap event at Old Dominion Speedway on July 14th.

In addition to being a SCSCS non-winner, to be eligible to compete a driver must also compete in the regular Super Cup race prior to the Challenge.

The final Super Cup event of the year will now have different format.

Leading off the events activities will be the regular Super Cup main event which will determine the overall Series Championship for 2012. Following the primary race will be the final of three Challenge races of the season followed by a Champions Race for winners only, the first SCSCS All Star race.

The preceding Challenge Series Champion will also become eligible to compete in the Champions race.

In addition, all eligible drivers in the All Star race will receive a Boschett special edition Super Cup Race Winner Watch from Keith Boschetti. President of Boschett Timepieces.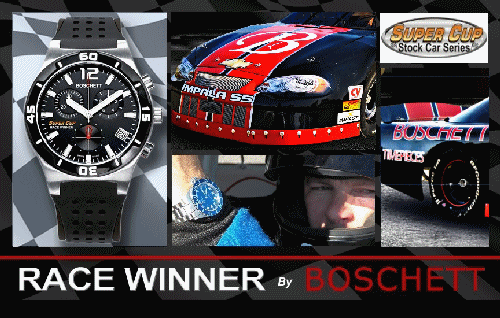 _________________________________________________________