_________________________________________________________
Race Dog.com Signs as Presenting and Pole Award Sponsor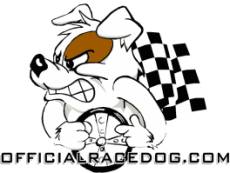 Official Race Dog.com has just become the presenting sponsor and Pole award sponsor of the Super Cup Stock car series at all events. We would like to introduce ourselves to you, as we have an all new Racing Social Network – packed with features to keep you in touch with other drivers and especially your fans.
Official Race Dog.com is a racing social network that keeps fans, drivers and tracks in touch. From the Drivers stand point the primary advantage is keeping in touch with fans and giving your sponsors another outlet for publicity. When you register as a driver which by the way is absolutely free, you can post a video, you're race schedule, results and more. The profile section lets you tell fans how you got started, what it takes to be involved, what part sponsorship plays, and put a big plug in for them too!
The site is easy to navigate and upload images, video and more. We've just launched the site so there is much to come. We've got T shirts, stickers and lots more to give away. Post a complete profile now and get a GOT DOG introductory shirt mailed to you today. Log on regularly for additional free stuff, as we will have a featured driver

promotion for all drivers in the Super Cup Series – log on regularly for details. The winning package could be worth big $$$.
It's that simple! You've been officially invited! We'll see you on the net and meet you at the track.
If you have any questions contact me at (828) 713-1087
Best Regards
Kevin Franciose, President
Official Race Dog LLC
Exclusive "Got Dog? " T shirt for complete profiles entered for Super Cup Stock Car Drivers
_________________________________________________________